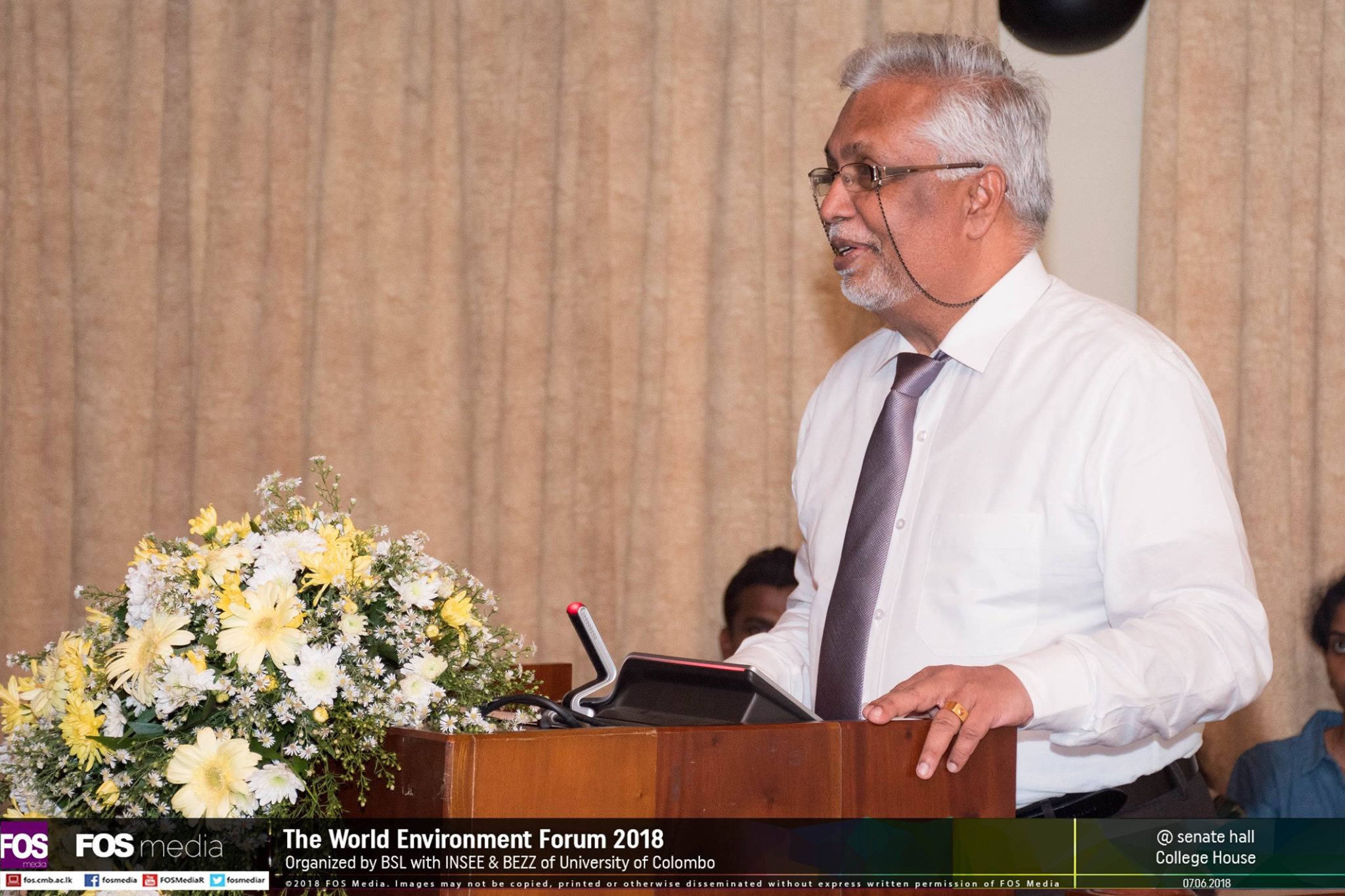 World Environment Day forum 2018
World Environment Day 2018, which was organized by the BEEZ – Base for Enthusiasts of Environmental  Science and Zoology- Faculty of Science, University of Colombo, in partnership with Biodiversity Sri Lanka and INSEE/Siam City Cement (Lanka) Limited, was successfully held at the Senate Hall on Thursday 7th of June from 4.00 pm onwards. Senior Professor Lakshman Dissanayaka, Vice Chancellor of University of Colombo addressed the audience at the event. He highlighted on the different initiatives taken by the university to embrace a more sustainable way of living and highlighted on the importance of committing towards regular  environmental initiatives within the university.
    The programme mainly emphasized on the Global Environment Day Theme, "Beat Plastic Pollution" and saw the participation of those belonging to multiple sectors, all united to discuss the need to stop plastic pollution. The technical presentations were moderated by Ms. Shiranee Yasaratne, Advisor of Biodiversity Sri Lanka. Professor Emeritus Sarath Kotagama of University of Colombo shared his views on "When will we not produce waste?". This was a wake up call for everyone in the audience to rethink about their way of life. Valuable information on "Best Practices in Sustainable Waste Solutions" was shared by Mr. Sanjeewa Chulakumara the General Manager of INSEE Ecocycle.
    Mr. Chinthaka Abeysekara, the Chief Executive Officer of Sisili Projects Consortium then addressed the gathering on "Recovery of Plastics from Waste Streams and Its Feasibility for Use in Industries".  The interactive discussion which was themed "Let's Change Ourselves to Change the World: Lifestyle Changes to Tackle the Waste Issue"  was carried out by Ms. Kanchana Weerakoon, Founder of Eco-friendly Volunteers, In addition, Ms. Dinithi Hemachandra, Student of Department of Zoology and Environment Studies, University of Colombo and Mr. Hiroshan Weerawardana, Student of Department of Integrated Design, University of Moratuwa, shared the student perspective in handling this issue. The initiatives taken within the two universities to put an end to plastic pollution and to offer alternatives for plastic were highlighted during the session.
    This Event brought together a number of important stakeholders in terms of environmental management and protection in Sri Lanka, providing an important platform for undergraduates to learn an interact with eminent personalities in the field while also contributing towards making a positive impact on the environmental condition in the country through awareness building.