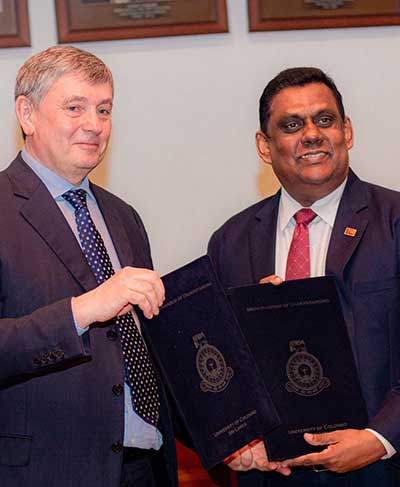 UOC signs an MoU with Ural Federal University, Russia
A delegation led by the Rector of the Ural Federal University of Russia, Victor A. Koksharov, met the Vice Chancellor, Senior Professor (Chair) H.D. Karunaratne on 25 January 2023. An MoU between the two institutions promoting joint research, capacity building and student/staff mobility was signed during the meeting. Mr Tilan Wijesooriya, Deputy Secretary General, Federation of Chambers of Commerce and Industry of Sri Lanka was also present. Dean of the Faculty of Science, Professor Upul Sonnadara, the  Dean of Faculty of Technology, Senior Professor J.K.D.S. Jayanetti, Dean, Faculty of Management and Finance, Professor M.P.P. Dharmadasa, Director, University of Colombo School of Computing (UCSC), Dr D.A.S. Atukorale, Director, Institute of Human Resource Advancement (IHRA) Professor W.S. Chandrasekara and the Director of the International Office, Dr Sashika Manoratne represented the University of Colombo.
Ural Federal University is home to 40 000 students from more than 100 countries of the world and more than 4000 faculty members including top-notch global experts. It offers more than 400+ Bachelor's, Master's and Doctoral degree programs in natural sciences, engineering, social sciences, humanities, economics and management taught in Russian and English. Ural Federal University is 335th in QS World University Rankings 2022. The meeting between the two universities was facilitated by Professor Janitha A. Liyanage, Ambassador of the Democratic Socialist Republic of Sri Lanka to the Russian Federation.