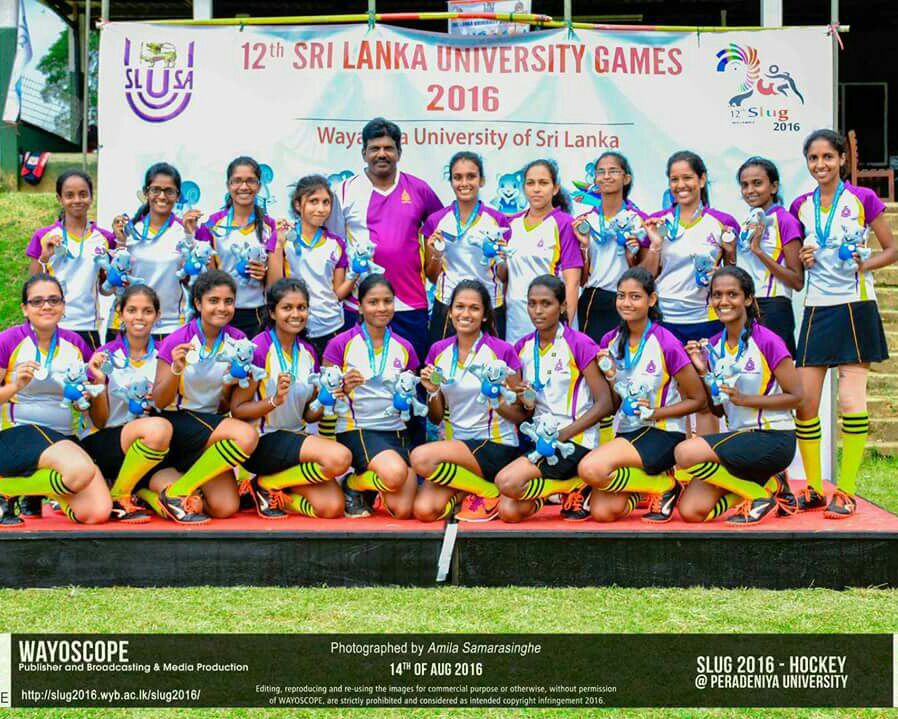 UOC dominates the SLUG Hockey arena
University of Colombo men's and women's hockey teams went on to emerge as the champions and runners-up respectively at the 12th Sri Lanka University Games hockey tournament held at the University of Peradeniya from 12th – 14th August 2016.
The University of Colombo lads and lasses showed tremendous potential backed by unshaken determination and talent throughout the tournament, making their style of play a heart winner of many and a treat to watch.
The men's team who were the defending champions in university hockey, dashed towards the final as an unbeaten team and was able to bag yet another university hockey championship defeating  University of Moratuwa. 1-nil at the final.
The team possessed a brilliant forward line guided by Captain; Thanuka Thennakoon, which scored at will against their opponents with speed and precision of a sniper, backed by an above competent defence properly managed by Vice Captain; Dinuka Perera, against which only a few goals were scored throughout the tournament.
Hardworking and determination had certainly paid off big time for the Colombo hockey lads as they have made a legendary comeback at the Sri Lanka University Games after being champions in year 2010.
The women's team on the other hand was able to maintain the winning streak and rewrite the record books of their already dominant history of the game by qualifying to the finals at the Sri Lanka University Games Hockey tournament for the 4th consecutive year and emerging runners-up.
University of Colombo women's hockey team had always been dominant in the University Hockey arena bagging the championship during the year 2010 and being runners-up in years 2007 and 2013.
The women's team who had been always known to have a team player attitude rather than a star player attitude possessed a well coordinated forward line led by the Vice Captain; Yashora Kulasinghe and was able to score a number of quality goals against their opponents through tactful and intelligent play.
One of the other noteworthy aspects of the team was the solid defence led by the Captain; Indunil Ittapana, which stood strong and high making it impossible for many teams to penetrate and score goals.
The women's team which consisted as many as 11 freshers stands as evidence to show how far a team of determined, hardworking and spirited individuals can go in the sport of Hockey.
Coach; Mr. Rohan Dissanayake, along with his two teams stands victorious at the 12th Sri Lanka University Games hockey tournament 2016, yet again bringing glory to the University of Colombo.