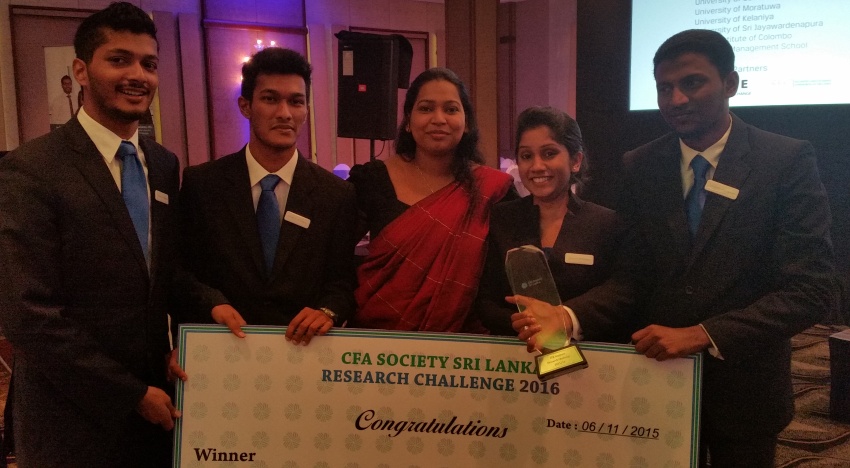 University of Colombo emerged Champions at CFA Sri Lanka Research Challenge 2015
University of Colombo emerged champions for the 3rd consecutive year at the CFA Research Challenge Sri Lanka 2015 which was held on 6th of November at Ramada, Colombo. The winning team led by Nilukshi Jayawardena included Supun Walpola, Ruzni Faik, Praveen Fernando and Rukshani Adhihetty from the Faculty of Management and Finance. The Faculty Advisor is Ms. Ganga Fernando, Lecturer from Department of Finance. The team worked effortlessly to reach one goal. It was a remarkable achievement for the University as it was the 3rd consecutive time to win the award to the University. The team will now represent Sri Lanka at the Asia Pacific Finals to be held in Chicago, United States of America in April 2016.
CFA Research Challenge is annual global competition that provides university students with hands on mentoring and intensive training in financial analysis. The competition was carried on for a period of three months, commencing in July 2015. The participating teams included the University of Colombo, University of Sri Jayawardenapura, University of Moratuwa, University of Kelaniya, Royal Institute of Colombo and Business Management School (Colombo). The competition comprised of two rounds, where the teams were requested to submit an Initiation Coverage Report. Thereafter the 4 team producing the best reports were shortlisted and selected for the finals presentation round.