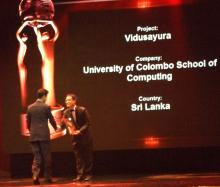 UCSC Wins a Merit Award @ APICTA 2010 in Kuala Lumpur, Malaysia
At the 10th International Asia Pacific ICT Alliance (APICTA) Awards held in Kuala Lumpur, Malaysia, from 12-15 October 2010. A total of 160 winners from 11 member economies showcased the best of ICT applications from the public and private sector as well as students under 16 categories. Most awards were won by Australia, Malaysia and Singapore. Eleven nominees from Sri Lanka participated this year and four of them won merit awards.
Vidusayura an e-Learning product from University of Colombo School of Computing (UCSC) was among the four merit award winners from Sri Lanka. Vidusayura is a Virtual Learning and Training Environment for Maritime Education. It allows simulating ship models under complicated environment conditions such as wind, wave and sea currents. Vidusayura virtual environment is used by Sri Lankan Navy to train to navigate in the Galle harbour and to study ship motions.
Early this month, Vidusayura won the Gold under Education & Training category at the National Best Quality Software Awards (NBQSA) organised by the BCS Sri Lanka Section. Same product also was the overall Bronze at the same event. Both NBQSA and APICTA are designed to stimulate ICT innovation and creativity, promote economic and trade relations, facilitate technology transfer, and offer business matching opportunities via exposure to venture capitalists and investors.