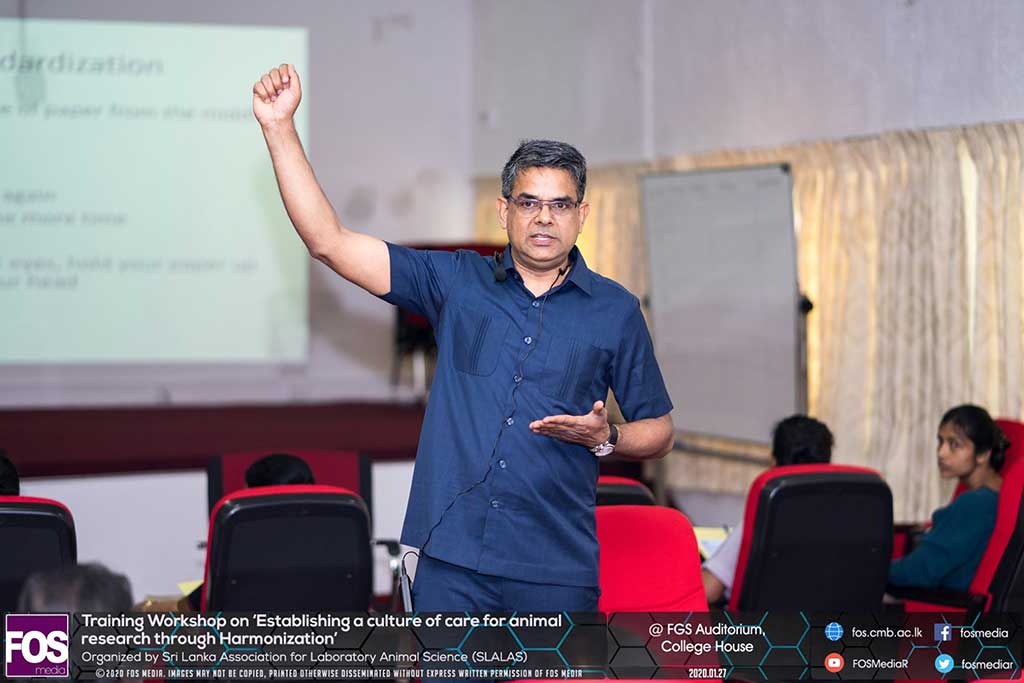 Training Workshop on Animal Ethics
A training workshop on animal ethics jointly organized by the Sri Lanka Association for Laboratory Animal Science (SLALAS) and the Ethics Review Committee (ERC), Faculty of Medicine, University of Colombo was held on 27th January 2020, from 9.00 am – 5.00 pm at the College House Auditorium, University of Colombo, Kumaratunga Munidasa Mw, Colombo 03. 'Establishing a Culture of care for animal research through harmonization' was the main focus of this experience sharing workshop. It was attended by ERC members (including chairpersons and secretaries) from universities across the country such as the Universities of Colombo, Sri Jayewardenepura, Ruhuna, Sabaragamuwa, Jaffna, Eastern and Institute of Indigenous Medicine to name a few. This program was initiated at the 5th SLALAS Annual Scientific Sessions (2018) with the discussions involving all stakeholders to develop and implement harmonized protocols for reviewing and monitoring of research/training involving laboratory animals in Sri Lanka in order to improve animal welfare.
The workshop commenced with the welcome address by the President of SLALAS Dr. Inoka Sandanayake which was proceeded by the Vice-Chancellor Senior Professor Chandrika N Wijeyaratne's address. The Vice-Chancellor highlighted the value of this timely workshop as improving animal welfare through harmonization is of paramount importance in today's research culture to ensure quality research. Following her address, Dr. Tharanga Thoradeniya of Faculty of Medicine, University of Colombo and Dr. Vijay Pal Singh, Deputy Director, Food Safety and Standard Authority of India took center stage in conducting an interactive and engaging workshop. Dr. Thoradeniya emphasized the importance of choosing the correct animal model for given research keeping the 3R concept in mind when planning out or reviewing any experiment involving animals. She took the participants through the concepts of animal ethics using activities which gave them space to think of ethical dilemmas. Dr. Vijay Pal Singh then conducted an eye-opening exercise which showcased how we as individuals perceive the same instructions differently. This exercise highlighted the importance of standardization of experimental protocols and appropriate reporting of experiments. Following which we broke for tea and networking.
The second segment saw the fundamentals of designing animal experiments and applying for ethics approval which was conducted as group sessions. All participants were asked to review an animal research protocol using a score sheet. This exercise gave a better understanding of the importance of 'risk benefit analysis' in ethics review. Following the lunch break, each group was given a research topic and was asked to develop their own protocols which was critically evaluated by a peer group. This workshop saw the need for laws and legislation related to animal ethics and welfare in the country. It was concluded with the hope that we can move forward and establish a 'culture of care' to safeguard humane care of animals. In her concluding remarks, Dr. Thoradeniya emphasized that creating a 'culture of care' for research animals sets the stage for enhancing animal welfare as well as the quality of research, thus ensuring the ultimate benefits to the people, animals, and the environment. The take-home message of this workshop was that that the Ethics Review Committees and research committees reviewing protocols for approval for higher degrees or funding should consider welfare of the animals seriously in order to ensure the quality of research outcomes. Thus, they could be an integral part of the establishment and propagation of 'culture of care' among researchers. All those who strive for research excellence should spread the importance of animal welfare in research, and become change-makers for establishing a 'culture of care' in their respective institutions.
View more photos on FOS Media