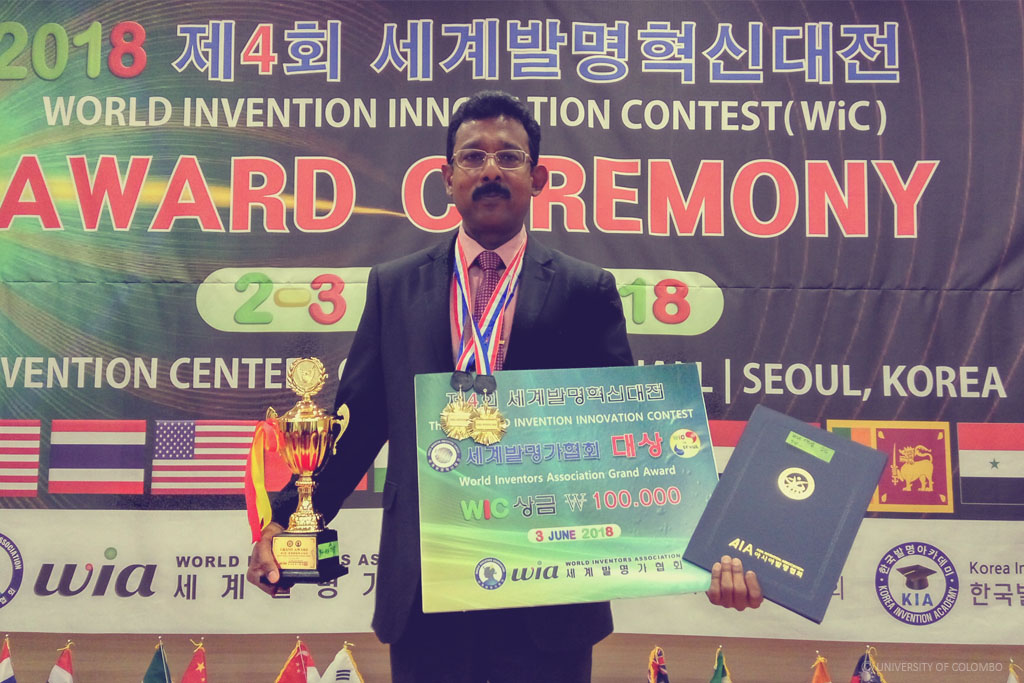 The Highest Level International Recognition of an Invention
Two Sri Lankan Inventors, Dr. Mahesh Edirisinghe a Senior Lecturer at the Department of Physics and Mr. Thimira Sanuka Thilakarathna who was an undergraduate at the Department of Physics and currently working as a Temporary Demonstrator in Physics have been achieved a highest level international recognition for their newly invented medical device. This invention was initially developed as Mr. Thimira's undergraduate project supervised by Dr. Mahesh Edirisinghe and later developed to more professional level.
By knowing that the nasal airflow is very important when a physician examine a patient, as an initial diagnosis, these two inventors from University of Colombo invented this invention named, "Nasal Airflow Detection and Flow Rate Measuring System (NAMS)" which reveals novel nasal flow measuring device. It is a very unique device as currently there is no such device to measure nasal airflow separately. NAMS is capable of measuring the flow rate of the two nasal cavities individually and simultaneously and it is portable device. It also allows measuring the number of breaths per minute (to monitor breathing style), temperature and the relative humidity of the airflow of two nose cavities separately. It is important to mention that NAMS can be used as an initial diagnosing method for Septum Deviation, Nasal Polyps, Nosebleeds, Rhinitis, Nasal Fractions, Nasal Cycles, Breathing Style etc. We are glad to state that NAMS is the world first device in this nature.
Highest level international Awards and Achievements: 
World Inventors Association GRAND AWARD with Korean Won 100,000 cash AWARD and a GOLD MEDAL at the 4th World Invention Innovation Contest (WiC2018) which was held during June 2-3, 2018 in Seoul, Korea.

GOLD MEDAL at the 46th International Exhibition of Inventions of Geneva which was held from April 11 to 15, 2018 in Geneva, Switzerland.
This is the first time in Sri Lanka history a Grand Award has been awarded at international level for an invention invented by Sri Lankans.