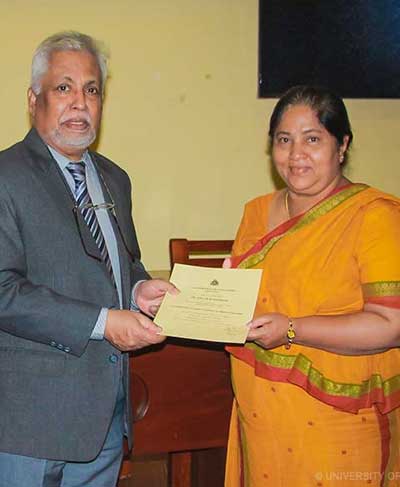 SDC Awards Ceremony 2018
The Awards Ceremony of the Staff Development Centre was held at the Senate Hall of the College House on the 19th November 2018. The event witnessed over 60 members of academic staff of the University of Colomb, as well as other universities across the island, receive their Certificates in Teaching in Higher Education (CTHE). In addition, six senior academics who successfully completed their course were awarded certificates in the Accreditation of Senior Teachers in Higher Education (ASTHE). Furthermore, those achieving the criteria for excellence as specified by the Staff and Educational Development Association (SEDA – UK) were also given their SEDA accreditation certificates. This year, all the participants completing their coursework within the stipulated timelines had achieved the SEDA standards and were the proud recipients of the SEDA accreditation.
The Vice-Chancellor Senior Professor Lakshman Dissanayake graced the occasion as the Chief Guest, while the members of the Board of Management of the SDC, comprising the Deans, Rector, Directors of Institutes as well as representatives of the Council and Senate of the University, were present to support the SDC and the academics who have reached an important milestone in their careers. In his address, the Vice-Chancellor traced the evolution of the concept of staff development over the years and reminded those present that they should always strive for excellence in their chosen fields. He highlighted the fact that new trends in technology should be harnessed in order to provide meaningful education to the Millennials, who would very soon form the student population at university, and advised the academics not to lose track of their role as teachers, researchers, and educators.
The SDC congratulates all the successful awardees and wishes them the very best in their service to the higher education sector of this country. The next CTHE programme is scheduled to commence in March 2019, and the call for applications is already out.