Following the "Kizuna Project" which was implemented in 2012 in accordance with the Sixth Pacific Islands Leaders Meeting (PALM6) Okinawa Kizuna Declaration, the Government of Japan announced the JENESYS 2.0 Project as a new initiative of Japan's commitment to further promote people-to-people exchange and build closer relations between Japan and Pacific Island Countries. This Project will lead to strengthening friendship and deepening mutual understanding between Japanese and Pacific island youths.
The Ministry of Higher Education, Ministry of External Affairs, and the Embassy of Japan selected 5 students and 1 supervisor from the University of Colombo; who were nominated to be part of this youth exchange programme. They took part in the SAARC University Invitation Program 2013 which was held in Japan from 10 – 15 of June 2013. Participants: Dr. Samantha Padmasiri Kaluarachchi, Senior Lecturer (Faculty of Management and Finance – Supervisor), Mr. Ishanka Praneeth Munugoda (Faculty of Medicine), Ms. Madduma Ralalage Hemalee Abaayawickrama (Faculty of Law), Ms. Shayani Raneesha Jayasinghe (Faculty of Arts), Ms. Sulakkhana Prabashwari Diyabalangei (Faculty of Law) and Mr. Sudham Udana Dewaraja (Faculty of Science).
Ms. Shayani Jayasinghe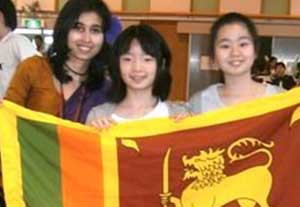 "It was indeed a great pleasure to represent Sri Lanka and the University of Colombo at the JENESYS 2.0 program 2013 organized by the Government of Japan for university students from SAARC countries. By participating in this program we gained knowledge of industrial development in modern Japan. It is indeed great to see how Japan has transformed from an isolated nation in the Tokugawa period to a great nation with large scale technological innovations and very high infrastructure development. We were taken to the Shibaura Water reclamation center in Tokyo. It is the 3rd oldest water reclamation center in Tokyo. We visited the Nihon Minkaen open-air Museum in Kawasaki to experience the rich Japanese culture. We saw many Traditional Japanese farmhouses, samurai houses, merchant houses (e.g. Suzuki House), and a Kabuki stage. We also took part in a traditional Japanese Indigo dyeing workshop.
It was a great experience as we got a chance to get a good knowledge of Japanese architectural history as well as their traditional way of living. Many of the traditional style houses have wooden floors known as Tatami. The Mitsubishi Minatomirai Industrial Museum was a good experience of the developments of modern science and technology. The museum exhibited a large number of replicas of rockets, airplanes, ships, machinery, etc. The experience-based exhibits encourage visitors to experience aspects of manufacturing through the design, fabrication, and operation of various types of vehicles. At the Wada Elementary School, we shared our experiences and cultural values with Grade 6 students. The students and school authorities welcomed us warmly. Our final action plan focused mostly on increasing productivity through efficiency and punctuality. It received a very good response from the audience. The Japanese are very active people who are very committed and efficient. They are very punctual and hard working. Therefore, by participating in the JENESYS 2.0 program we gained a wide knowledge of the Japanese culture, industries, and the success behind Japan's successful industrial development. The JENESYS program was indeed a great experience for us not only because we got a chance to experience the industrial developments in Japan but we also got a chance to meet a lot of nice people from different cultured and exchange ideas with them."
Mr. Sudham Dewaraja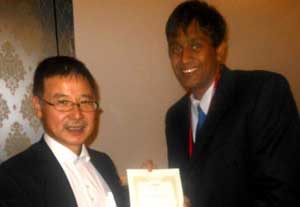 "The opportunity afforded to us by the Government of Japan together with the Ministry of External Affairs in Sri Lanka should be commended at the very outset as it enriched our lives in ways unimaginable. It was a true journey through cultural fusion and experience in advanced technological developments in lifestyles. The program consisted of four Informative tours to the Water Reclamation Centre, Museum of Japanese architecture, Mitsubishi Museum, and the disaster management center, where we learned, the Japanese dedication to keeping the planets clean water clean!!!!, Indigo dying a method of dying similar to batik, cutting edge technology of Japan, and how ready Japan is for disaster. The next day's tour to the elementary school dressed in our traditional garbs was rather fulfilling as we got an opportunity to present Sri Lanka to the kids and they taught us their traditional games which at first sight seemed basic but in hindsight should be commended for their tactical and strategic thinking patterns.
The Visit to the temple and then Akihabara the duty-free city offered all of us the opportunity to experience the Japanese Buddhist culture and then afterward to do some frantic shopping as we were on a tight schedule imposed by our coordinator Shi Ma Da Saan. The cultural aspect of Japan was experienced by us through all the late-night escapades around the city where we enjoyed Japanese cuisine, Music at Tokyo Bay, Dancing and public transport on subways to visit Yokohama"
Ms. Sandani Yapa Abeywardena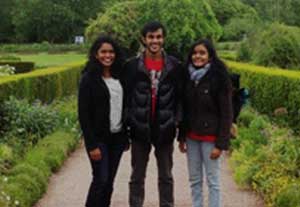 Since I arrived in Germany, life has been somewhat of a whirlwind with learning to get around in a new country, managing my own finances, and trying to get things done despite the language barrier. The German language was not the easiest thing to learn and even completing a simple transaction successfully feels like an achievement! Nevertheless, the experience itself is truly wonderful. Adjusting to a different culture was easier than I anticipated and the friends I have found here made it all the more pleasant. I feel that this opportunity has helped me develop as a person, especially in understanding that independence comes hand in hand with responsibility.
The courses are both challenging and extremely interesting and they are made more intriguing by the diverse opinions that are voiced during the lectures. All in all, the academic experience itself has been eye-opening and has given me the opportunity to learn things I would otherwise have not been exposed to and this has been truly fantastic. Being in Germany during the football World Cup is also a dimension that definitely enriched the experience. It's quite a lot of fun to partake in the festivities, watch the matches decked in German colours and cheer alongside other students and I can confidently say I know a lot more about the sport than I ever did before! Being centrally located in Germany also provides exchange students the opportunity to travel extensively and see a wonderful array of diverse places both in terms of nature as well as architecture and this has been a dream come true! I'm extremely grateful to the Department of English for fostering this partnership and providing students with this wonderful opportunity as well as the International Unit of the University of Colombo for facilitating it. It is truly a marvelous experience that enhances the quality of one's undergraduate life immensely and is truly unforgettable.