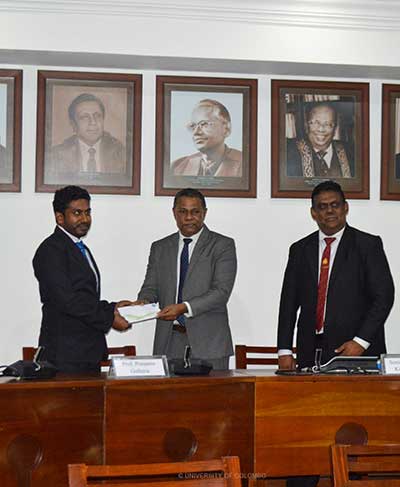 Royalty Transfer with regards to the Partnership between Fadna Life Science & the University of Colombo
Prevailing economic difficulties have resulted in seeking businesses & individuals looking for better prospects elsewhere. Thus the Institute of Biochemistry, Molecular Biology & Biotechnology (IBMBB) of the University remains a symbol of hope and resilience.
It is actively working to uplift local businesses and improve the national economic scenario through innovative initiatives. The effort is reflected in a significant partnership between IBMBB and Fadna life science company. The collaboration has resulted in the development and introduction of innovative products, aiming to meet the diverse needs and expectations of consumers. These products, namely vernolac, satiny, ortho shield, and bio shape, were launched on August 23rd, 2022, under a licensing agreement with Fadna Life Science, showcasing the pivotal research and development led by Professor Sameera R. Samarakoon and his team at IBMBB.
Vernolac: is a nutraceutical developed for negating cancer stem cells. It also offers cancer patients a better quality of life. This product can be used by cancer patients and people who are at risk of getting cancer
Satiny: eliminates hair fall and promotes hair growth through the use of herbal ingredients.
Ortho Shield: uses herbal ingredients to help reduce joint pains by enhancing the absorption properties of aroma
Bio Shape: Reduces extra fat in the body by using an easy-to-use form that supports weight wellness.
Products mentioned are developed through extensive research, and will now be manufactured and marketed by Fadna as a licensing partner was made in appreciation of expertise in promoting functional products. Their commitment to delivering healthy and functional solutions to valuable consumers aligns with the objectives of this collaboration. The event highlighted and celebrated the significant milestone of transferring royalties back to the University of Colombo by Fadna Life Science. The occasion was not merely a celebration of financial acknowledgement to the university but also signifies the strengthening alliance between academia and industry. The event took place on 27 October 2023 at the Senate Hall of the University along with the officials of Fadna Life Science handing over the Royalty transfer to Senior Professor (Chair) H.D. Karunaratne, the Vice Chancellor of the University.