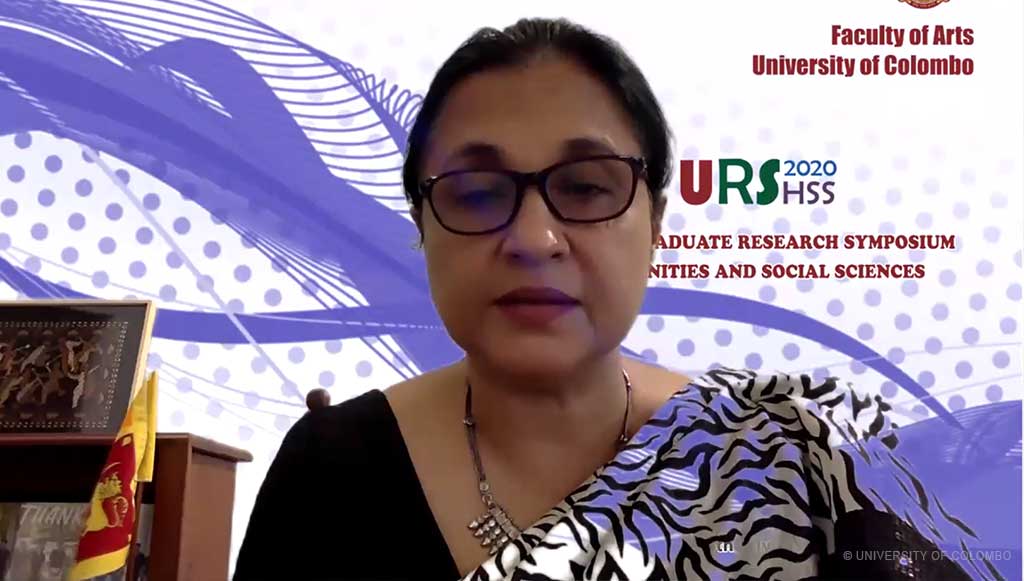 Undergraduate Research Symposium 2020 – Faculty of Arts
The Faculty of Arts organised their 2nd Undergraduate Research Symposium – Humanities and Social Sciences 2020 on 24th July 2020 via zoom. It is the first attempt to host an undergraduate research symposium virtually in the University of Colombo and possibly in Sri Lanka. The Vice-Chancellor, University of Colombo, Senior Professor Chandrika N Wijeyaratne was the Chief Guest and the Dean, Faculty of Arts, Senior Professor Premakumara de Silva was the Guest of Honour for the event. Professor Nihal Perera, Professor of Urban Planning, Ball State University, USA, delivered the Keynote address on the topic 'Sri Lanka's Spatial System: Colonialism, Education, and Cities'. At the inauguration, the welcome speech was delivered by Dr. Pradeep Peiris, Conference Co-Chair and the vote of thanks was delivered by Dr. Wimal Hewamanage, Conference Co-Chair, URSHSS 2020. At the symposium eighty-two research papers were presented by undergraduates in 16 parallel sessions under the following themes:
Environmental Economics
Identity and the Economy
Infrastructure and the Economy
Practices for Economic Growth
Technology, Economy and Human Security
Language and its Social Impact
Language and Culture
Religion and Society
Buddhist Interpretations
Geography and Politics
Space, Architecture, and Politics
Gender and Family
Society and Health
Contemporary Social Issues
Disaster Management
The Faculty will be publishing the best 32 abstracts as full papers in an edited volume subsequent to the symposium.