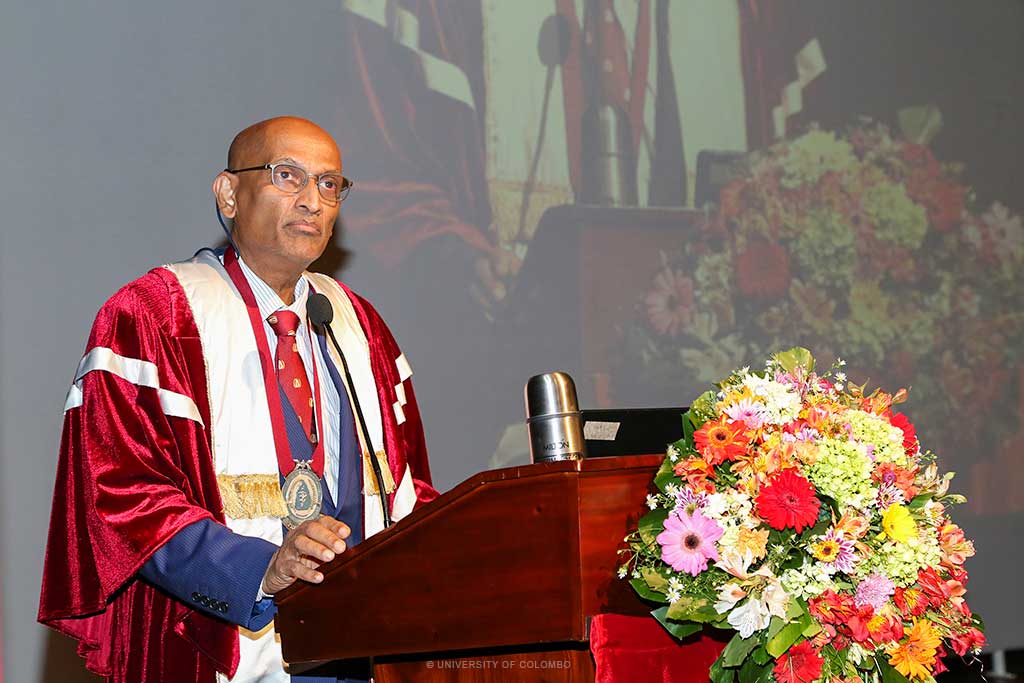 Professor Nandadeva Samarasekera Inducted as the 41st President of the College of Surgeons of Sri Lanka
Professor Nandadeva Samarasekera, Chair of Surgery and Senior Professor was inducted as the 41st President of the College of Surgeons of Sri Lanka on 14th January 2023 at a function held at the auditorium of the Faculty of Medicine (UCFM) Tower.
The theme of his speech was "Training the Future Surgeon". He emphasised the rapid advancement in medical technology, balancing work commitments and finding adequate time to learn new skills. In order to meet these demands, he presented how surgical education and training have to adapt, innovate and respond accordingly. He stated that the motivation to do surgery as a career should start in the medical faculty, especially in the Anatomy Department and that medical students should be involved in the vision for the future. He also emphasised the importance of research, professionalism and ethics in the career of a surgeon.
Distinguished guests who attended the function included, Senior Professor (Chair) H.D. Karunaratne, Vice Chancellor of the University; Vidya Jyothi Professor Rohan W. Jayasekera, the Chief Guest; Vidya Jyothi Emeritus Professor Janaka de Silva, Guest of Honour, Senior Cardiothoracic Surgeon at the National Hospital; Dr Chandima Amarasena, Guest of Honour; Professor Vidya Jothi Vajira HW Dissanayake, Dean of the Faculty of Medicine; Professor Senaka Rajapakse, Director of the Postgraduate Institute of Medicine and Dr Kumara Wickremasinghe, Deputy Director General of Health Services, Director of the National Hospital. The vote of thanks was delivered by the Honorary Secretary Professor Sanjeewa Seneviratne.