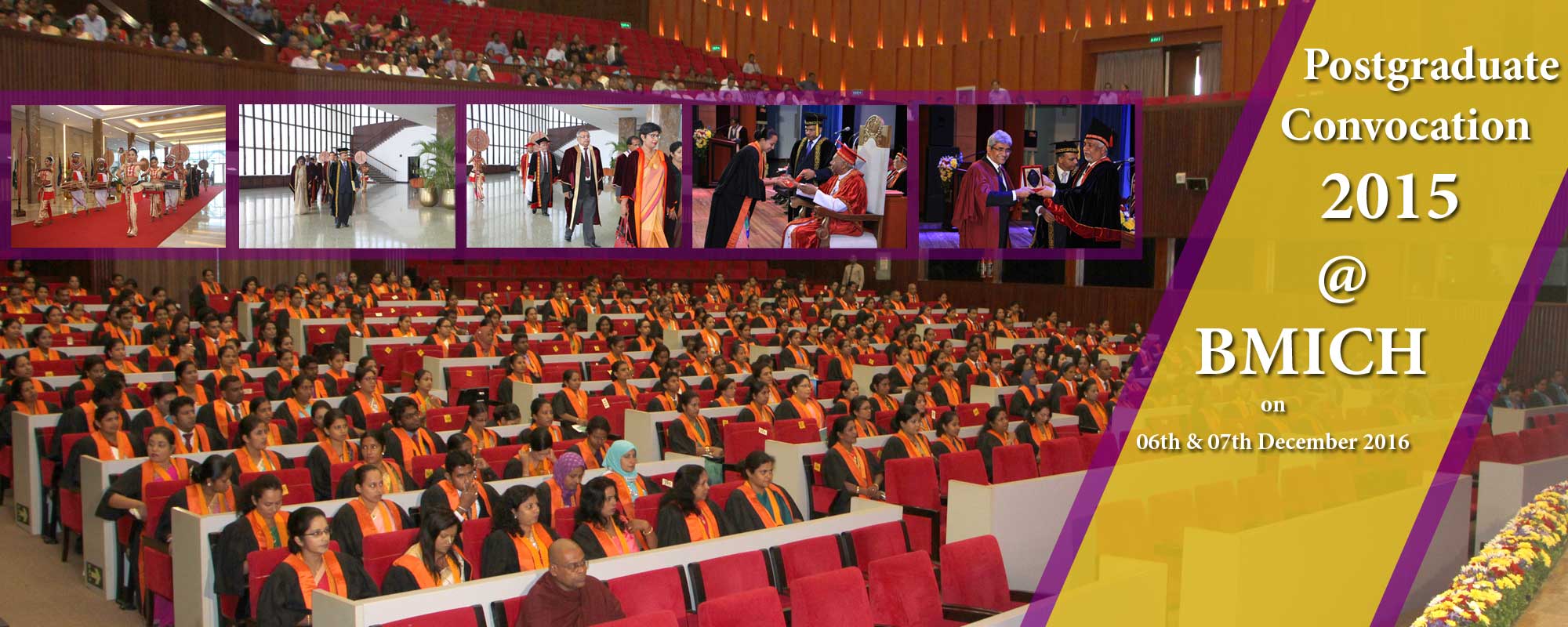 Postgraduate Convocation 2015
The postgraduate convocation of the University of Colombo, Sri Lanka was held on 06th & 07th December 2016 at the Bandaranaike Memorial International Conference Hall (BMICH) for the conferment of Postgraduate Degrees and Diplomas. Two thousand Seven Hundred and Forty One (2741) Postgraduands / Postgraduate Diploma holders were conferred the Postgraduate Degrees / Diplomas at this Convocation.
The Convocation was consisted Six (06) Sessions. His Grace, the Most Rev. Dr. Oswald Gomis, Chancellor of the University of Colomb, Sri Lanka was conferred following Postgraduate Degrees and Diplomas at this Convocation.
AWARDS & MEDALS
POSTGRADUATE INSTITUTE OF MEDICINE –  DOCTOR OF MEDICINE
Dr. P.T. De Silva Gold Medal for Clinical Medicine – A.M. WIJESINGHE
Dr. John F. Stokes Gold Medal for Medicine – S.S.C. GUNATILAKE
Prof. Milroy Paul Gold Medal for Clinical Surgery – B. BALAGOBI
Dr. Vrasapillai Gabriel Memorial Gold Medal for Surgery – B. BALAGOBI
Dr. Andrew Sims Gold Medal for Psychiatry – W.M.M.L. CHANDRADASA
Dr. Thistle Jayawardene Gold Medal for the Most Outstanding Successful Candidate – P.A JAYAWARDHANA & S.SABARETNAM (Jointly)
Gold Medal for the best PGIM Student (Doctor of Medicine Category) for the year – 2015 – R.E.E. DE SILVA
MASTER OF SCIENCE
Gold Medal for the best PGIM Student (Master of Science Category) for the year – 2015 – N. SUGANTHAN