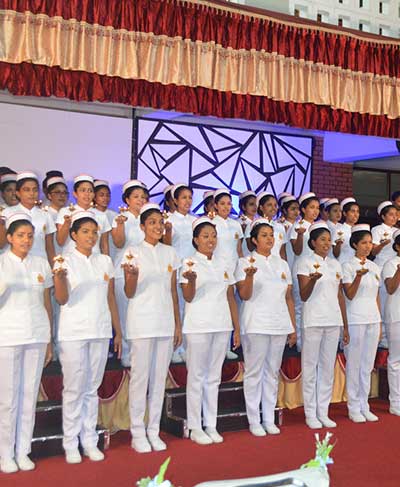 The 'Oath Ceremony' of the Faculty of Nursing – 2022
An Oath ceremony is a typical nursing tradition which is followed by all nursing educational institutions with the purpose of reminding nursing undergraduates of the noble traditions of their profession. This ceremony is conducted after undergraduates complete the basic fundamentals of nursing during their first year of study. At this ceremony, the nursing undergraduates take their oath after receiving their caps and the lamps from their teachers and nursing leaders in the healthcare system. Symbolically undergraduates dedicate themselves to the nursing service through​ the Oath Ceremony.
The Oath Ceremony of the 2nd Batch (2017/2018) of B.Sc. Nursing undergraduates in the Faculty of Nursing was held on June 17th 2022, in the Faculty of Nursing Auditorium. Professor Sudath Warnakulasuriya, the Dean of the Faculty of Nursing, welcomed the delegates and made an introduction to the oath ceremony by focusing on the historical aspect and the meaning of the oath taking ceremony. Senior Professor (Chair) H. D. Karunaratne, Vice chancellor of the University of Colombo, addressed the gathering as the Chief Guest by delivering an inspirational speech by highlighting five themes that need to be strengthened in order to be a successful professional including language skills, networking, entrepreneurship, IT, and financial literacy. He also congratulated the undergraduates who were ready to take the nightingale oath.
The Guest of Honour, Mrs. A.M.A Abenayaka, Director, Nursing Education, Ministry of Health, Nutrition & Indigenous Medicine delivered the ceremonial speech and highlighted the importance of the oath ceremony for the student nurses. Head of the Fundamentals of Nursing Department, Mrs W.A.R.P. Menike felicitated the statue of Miss Florence Nightingale with a bouquet of flowers and delivered the thanking speech and appreciated all the staff and invitees for their participation. The student nurses graciously lit their lamps and mounted on to the stage and took their "Nightingale Pledge" which illuminated the event. The Nightingale oath is a statement that defines nursing and helps to be eloquent for everyone, including to memorize the verses of the principles established by the founder of modern nursing, Florence Nightingale.
This is the second Oath- taking and dedication ceremony conducted by the Faculty of Nursing. The ceremony was graced by all dignitaries of the University of Colombo, representatives from other Universities, Ministry of Health, Hospital nursing staff, Academic, Administrative, Non-academic staff members and B.Sc. Nursing students of all the other B.Sc. Nursing batches in the Faculty of Nursing.