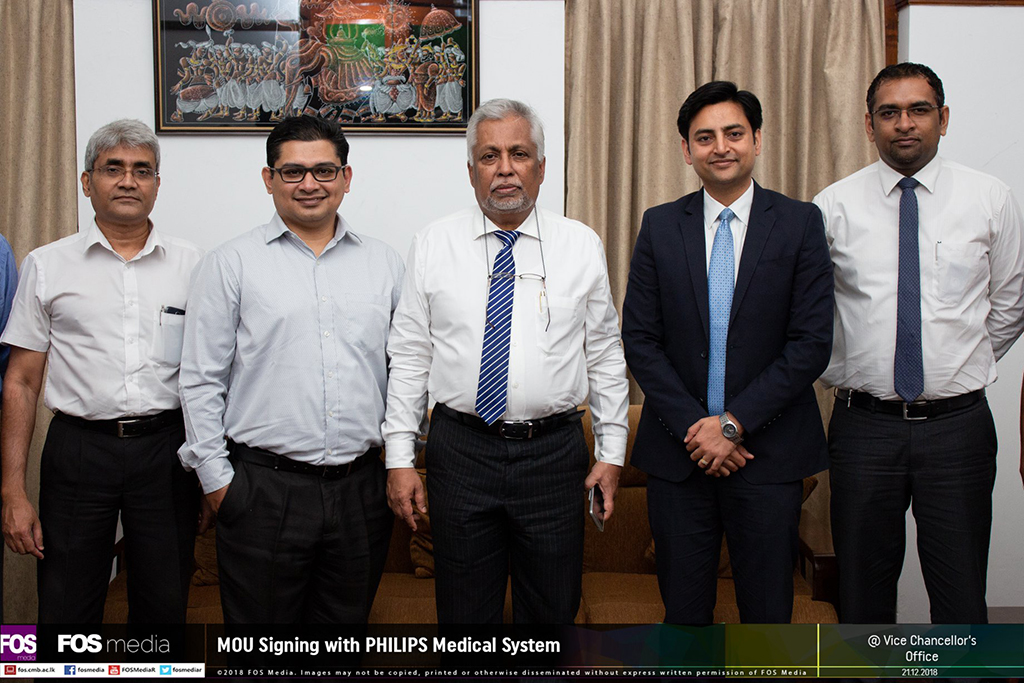 MoU between UoC and Philips Medical System
University of Colombo and Philips Medical Systems, Nederland, BV entered into a research agreement on the 21st of December 2018. Vice Chancellor, Senior Professor Lakshman Dissanayake signed on behalf of UoC while Philips Medical Systems was represented by a group of dignitaries from Philips India and Philips Sri Lanka, headed by Clinical Scientist, Dr. Indrajit Saha, of Philips India. The event was attended by the Dean of Science Faculty, Professor R. Mahanama, Head of Physics Department, Professor Upul Sonnadara and the bio-medical imaging research team at Physics headed by Dr. Janaka Wansapura.
The bio-medical imaging research team at Physics is focused on developing novel Ultrasound and Magnetic Resonance imaging tools to diagnose and stratify human diseases that are of particular interest to Sri Lanka. Their current studies include characterization of ultrasound spectra; MRI based renal flow, relaxation mapping, liver MRI segmentation, and quantification of myocardial strain.
This agreement will grant Dr. Wansapura's team, access to commercially not available, confidential software platform of Philips MRI scanners. Postgraduate students of the Physics Department will also have an opportunity to attend MRI development programs conducted by Philips Medical Systems under this agreement. The team will use this propriety tool to implement and test novel MRI methodologies they invent.
Philips routinely enters into research agreements with established researchers around the world to collaborate on mutually beneficial research. Under this agreement, intellectual property rights solely based on the University of Colombo will reside in the University of Colombo while joint inventions will be jointly owned and each party will have an equal, undivided, and unrestricted ownership.