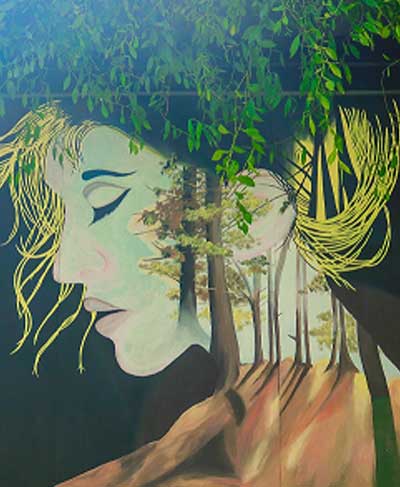 Law goes Green 2018 Tree Planting Campaign and Award Ceremony
The Final Year undergraduates of the Faculty of Law, University of Colombo organized a Tree Planting Campaign as the Final Phase of the 'Law goes Green 2018' (LGG) Environmental Law Programme on Wednesday, 16th May 2018 at Law Faculty premises. The 'Law Goes Green-2018' (LGG) initiative was conceived with the aspiration of making the Faculty of Law a more environmentally friendly institute of academic excellence and was organized for the successful 5th consecutive time under auspices of the Department of Public and International Law and the guidance of the Chairperson of Law goes Green, Senior Lecturer, Dr. Kokila Konasinghe.
This occasion was graced by the Founder of Embark and Otara Foundation, Ms. Otara Gunewardene and the Veteran actor Mr. Thumindu Dodanthanne as Chief Guests while the Vice-Chancellor of the University of Colombo, Senior Professor Lakshman Disanayaka extended his blessings to this event as the Guest of Honour where he intimated his hope of converting the whole of University of Colombo premises into a botanical garden. The invited dignitaries and the Dean of the Faculty of Law, the Heads of Departments and the academic staff joined in the unveiling of an awe-inspiring wall-art created by the undergraduates and the Faculty mini-garden and name plaque.
The Law goes Green Website (lawgoesgreen.com) was also launched by the Vice-Chancellor and the invited dignitaries where they took a pledge to protect the environment. (Take the pledge at: lawgoesgreen.com/join-us) Following this, Robarosiya plants were planted around the Faculty premises to respect the memory of the age-old Robarosiya plant uprooted in the hurricane earlier this year. Foxtail palm, Weralu, Esala and Magul Karanda were some other plants which received a new home at the Faculty during this campaign.
The Tree Planting Campaign was followed by the Final Awarding Ceremony of Law Goes Green on the afternoon of the same day, from 2.00 – 4.30 pm at the New Arts Theater, University of Colombo. Eminent environmental lawyer and conservationist Mr Jagath Gunawardena graced the occasion as the Chief Guest and the Former Head of Examinations of the Law College and Former High Court Judge Mr Sarath Edirisinghe joined the event as the Guest of Honour. This evening concluded the two-week-long LGG programme by awarding the victors of the various competitions held as part of LGG, namely, intra-faculty green debate, drama and poetry competitions and inter-school environmental case study competition, marking the successful conclusion of the 5th Law goes Green initiative.