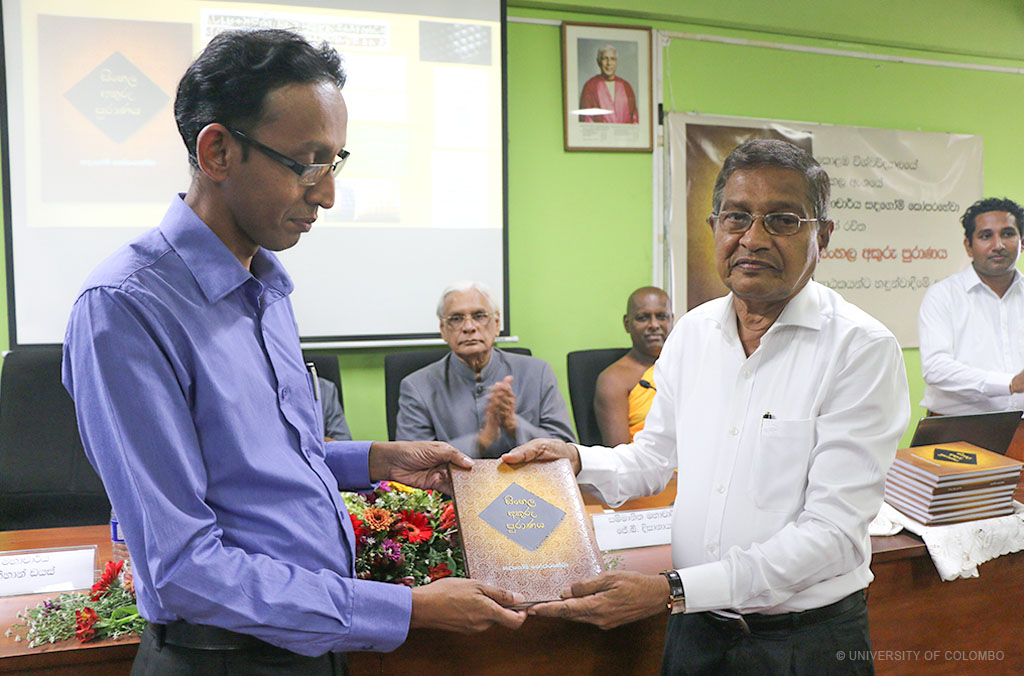 Launch of Sinhala Akuru Puranaya (සිංහල අකුරු පුරාණය)
The launch of Sinhala Akuru Puranaya සිංහල අකුරු පුරාණය ( Chronicle of Sinhala Letters) written by Professor Sandagomi Coperahewa, Department of Sinhala, University of Colombo was  held on 23rd October 2018 at 3.00 pm at the M.B. Ariyapala Auditorium , Faculty of Arts, University of Colombo.
Emeritus Professor J. B. Disanayaka chaired this session and Professor Ven. Agalakada Sirisumana (University of Colombo), Professor Gihan Dias (University of Moratuwa) and Pushpananda Ekanayaka (Font Designer) made short presentations.  The Emeritus Professors, Deans of the faculties, Heads of Departments, academics and a large gathering of Sinhala scholars and students participated at this event. This illustrated book Sinhala Akuru Puranaya covers 35 topics related to history, change and graphical identity of Sinhala letters. It is a Sarasavi Publication.