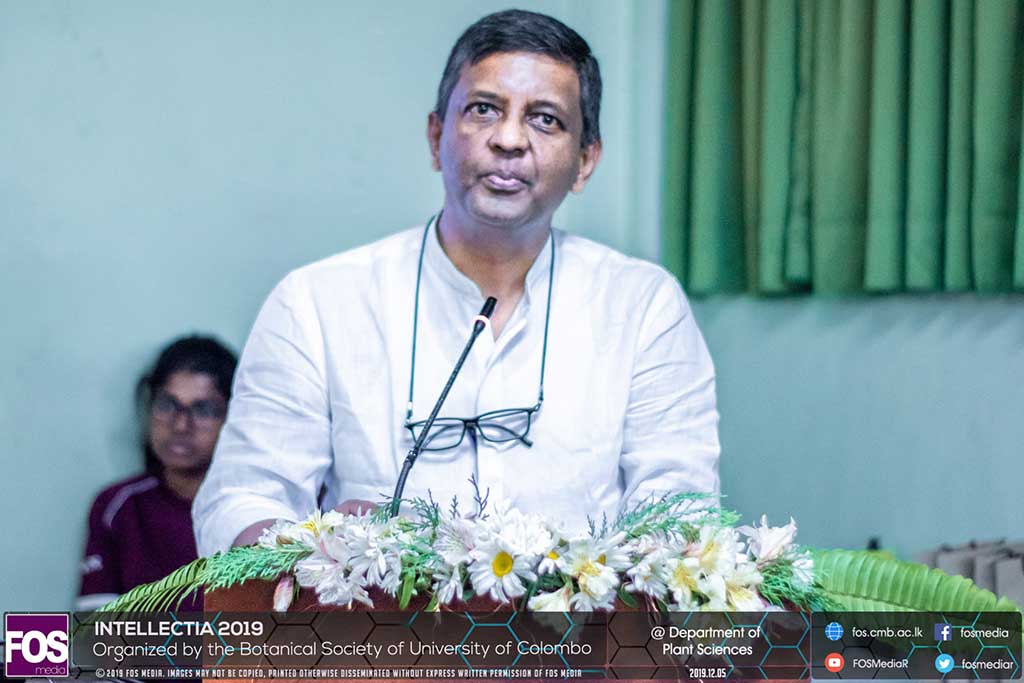 Intellectia 2019
Intellectia 2019, an awareness program on plastic pollution and promoting eco-friendly initiatives organized by the Botanical Society of University of Colombo (BOTSOC) in collaboration with the Center for Environmental Initiatives (CEI) of University of Colombo, was held on the 5th of December at the NBLT of the Department of Plant Sciences. Professor Ajith de Alwis, Senior Professor in Chemical and Process Engineering, University of Moratuwa, was invited as the guest speaker to highlight the necessity of reducing the use of single-use plastics. Around 150 undergraduates and faculty members attended the event. The purpose of this event was to introduce an initiative to the Faculty of Science, in which the usage of single-use plastic straws within the faculty premises would be gradually reduced, and hopefully eliminated. This would be achieved by distributing metal straws and wooden spoons to 1000 undergraduates and faculty members, with the hope that these would be used instead of the plastic ones.
After the formal proceedings, the event commenced with a welcome address by the BOTSOC president, Ms. Vinuri Weerasinghe, followed by a brief detailing by Senior Treasurer, Dr. Sameera Ariyawansa, on BOTSOC and the community service projects conducted by it in the past. Dr. Erandathie Lokupitiya, Director of CEI, next addressed the audience about the services conducted by CEI, and the dire need to avoid the single use plastics and reduce waste generated within the university premises. She also stressed about the significant decrease of the carbon footprint of the Faculty of Science since 2014 with better energy use efficiency and proper waste management.
Professor Ajith de Alwis, with his talk themed,' Plastics – Friend and Enemy' gave an interesting perspective on plastic. He highlighted the fact that it was not the material to blame for widespread pollution, but bad consumption habits. He further described alternatives and ways to recycle plastics. Project Co-Chairperson, Ms. Senuri Piyatissa, explained to the audience about the new initiative, after which a pack consisting of a metal straw with a brush and wooden spoon was distributed to the undergraduates and faculty members present. After the distribution, the event was concluded successfully with the vote of thanks delivered by BOTSOC Secretary, Ms. Bhagya Weththasinghe. BOTSOC together with CEI will distribute 1000 metal straws and wooden spoons within the Faculty of Science in the coming weeks, with the hope that this would be another step forward to reduce single-use plastics within the university premises.
View more photos on FOS Media