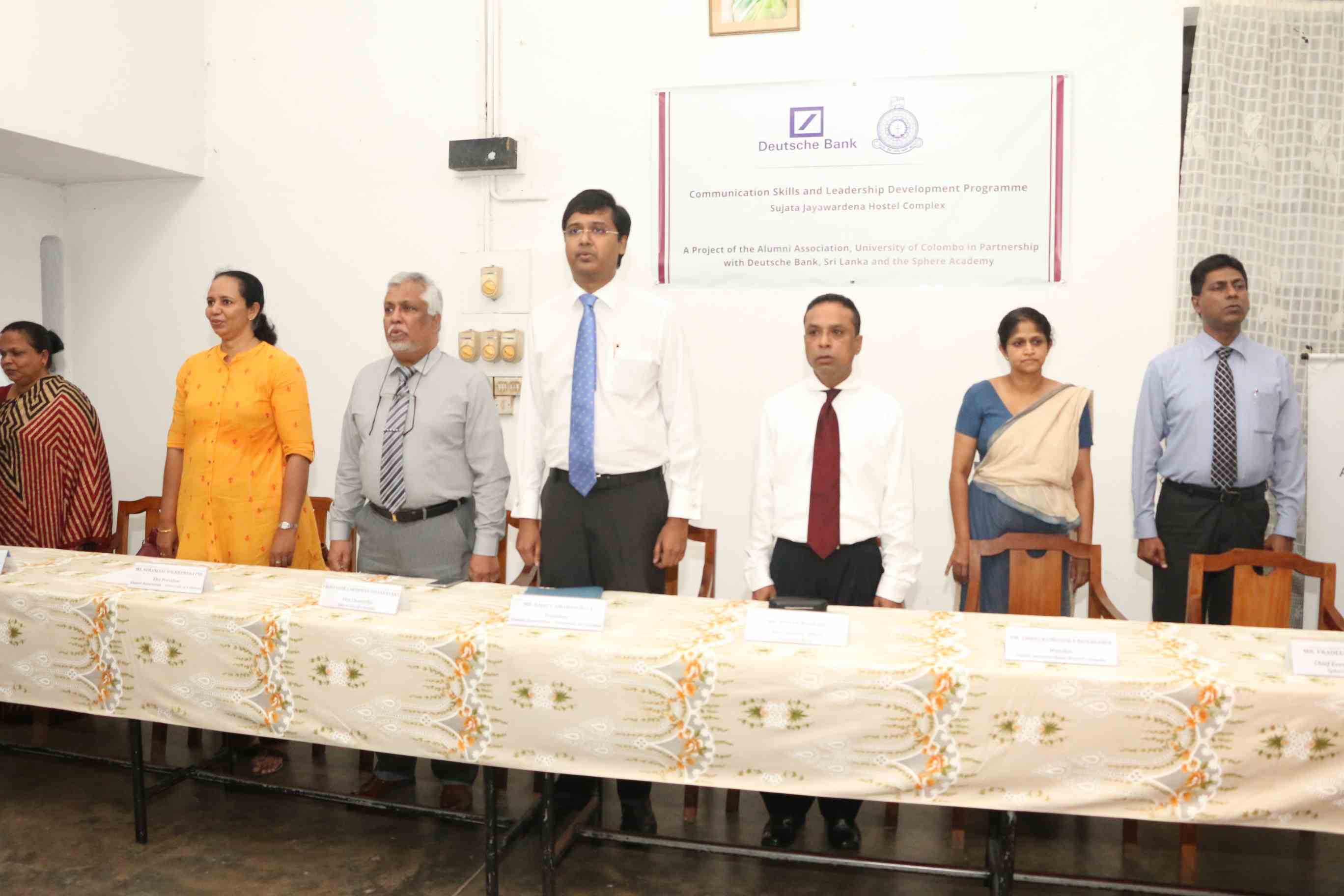 Inauguration of the Communication Skills and Leadership Programme
Inauguration of the Communication Skills and Leadership Programme for third and final year undergraduates resident at the Sujata Jayawardana Hostel Complex A project by the Alumni Association of the University of Colombo in collaboration with Deutsche Bank Sri Lanka
A 6-month Communication Skills and Leadership Programme for third and final year undergraduates at the Sujata Jayawardena Hostel Complex was inaugurated recently.
This is a student welfare initiative of the Alumni Association of the University of Colombo, in collaboration with Deutsche Bank, Sri Lanka, under the University Partnership Scheme.
The training will be conducted by the Sphere Academy and Consultants.
The Vice Chancellor, Senior Prof. Lakshman Dissanayaka, Alumni President Mr. Rajeev Amarasuriya, Chief Country Officer of Deutsche Bank Mr. Rohan Rodrigo, Warden of the Sujata Jayawardena Hostel Dr. Kumudika Boyagoda and Sphere Academy Managing Director Mr. Pradeep Yahampath spoke at the Inauguration. The vote of thanks was by Alumni Vice President and Student Welfare Committee Chair Ms. Surannaji Wickramaratne.
While addressing the function Vice Chancellor Prof. Lashman Dissanayaka stated that students should draw their level best attention to enhance their English knowledge as it is an essential requirement towards building their future career. He thanked the Alumni Association for initiating this programme in collaboration with Deutsche Bank.
Alumni President Mr. Rajeev Amarasuriya spoke on this valuable opportunity which was made available and the importance of enhancement of English Communication Skills.
Speaking at the Inauguration Dr. Kumudika Boyagoda thanked the Alumni Association for deciding to launch this series of programmes from the Sujata Jayawardena Hostel, and ensured the fullest cooperation of the management and the students towards making this programme a success.