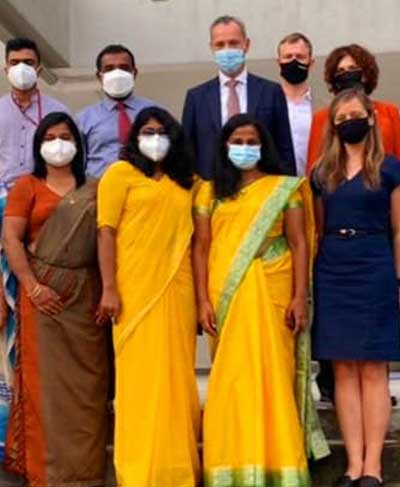 Lithuanian Ambassador, His excellency Julius PRANEVICIUS's visit to the Faculty of Technology
The Lithuanian Ambassador His Excellency Julius PRANEVICIUS, the Third Secretary of the mission Ms. Kamile NEMEIKSYTES and the delegation of fintech experts arrived in Sri Lanka on 9th December 2021 for a four days official visit to formally discuss about establishing collaborations with relevant parties of Sri Lanka in many potential fields. The delegation included Mrs. Laura Guobuzaite, Head of Export and Market development in INFOBALT(a prominent fintech and technology expert in baltic region), and Mr. LiuDas Kanapienis, Chief Executive officer of ONDATO (One of the powerful FINTECH leaders in the Baltic region).
The Lithuanian diplomats and the delegation visited the Faculty of Technology on 9th December 2021. The delegation and the faculty academia conducted fruitful discussions focusing on the potential areas for cooperation in education, in the form of student and staff exchanges, joint research projects and the methods in which the cutting edge technology of Lithuania could be imparted to the undergraduate and postgraduate students of the Faculty of Technology through the Embassy of Lithuania and the Consulate of the Republic of Lithuania itself. The Lithuanian ambassador emphasized that all THE arrangements will be made at the earliest through the Consulate. Mr. Kanchana Kodituwakku, the Director of Consular Services and Communications at the Lithuanian Consulate was also present at this occasion.