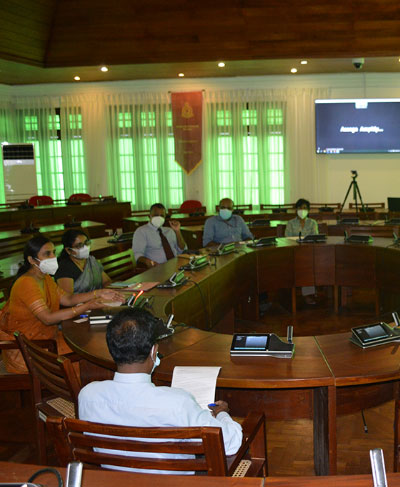 Group visit by Indian Institute of Madras, India
A group led by Professor Preeti Aghalayam- Faculty Advisor, Global Academic Activities, Indian Institute of Madras, India visited the University of Colombo and met Professor M.P.P. Dharmadhasa, the Acting Vice Chancellor on 25 March 2022. During the meeting, both parties discussed the potential avenues of cooperation between the two universities where Professor Aghalayam was accompanied by Ms. Deepa Alexander- Principal Program Administrator, Global Academic Initiatives and Ms. Richu George Philip- Principal Program Administrator, IOE Initiatives.
Professor Prasanna Galhena, the Director, Institute of Biochemistry Molecular Biology and Bio Technology, Dr. Asanga Ampitiyawatta, Director, Institute for Agro-Technology and Rural Sciences (joined online) Mr. K.A.S.Edward, Registrar, Dr. Sashika Manoratne, Director, International Office, Professor Chandima Tilakeratne, Head, Department of Statistics, Dr. Sameera Wishwakula, Director, Center for Data Sciences, Faculty of Science and Dr. Kosala Sirisena, Department of Environmental Technology, Faculty of Technology and Ms. Tharanga Dassanayake, Senior Assistant Registrar, International Office, also participated at the meeting.  The Meeting was organized by the International Office, University of Colombo.