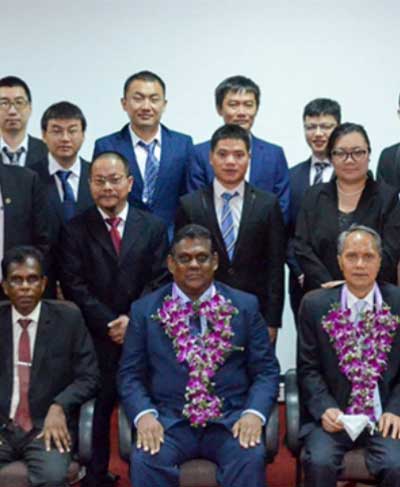 The University of Colombo initiated the first Executive MBA Program for Chinese Nationals

The University of Colombo, pioneers in the higher education sector of Sri Lanka has taken a new step forward with the start of the Executive Master of Business Administration (EMBA) program for the Chinese nationals. It is the first customized post-graduate program offered by a public university in the country for foreign nationals. The inauguration ceremony was held on 11th June 2022 at the auditorium of the Faculty of Management & Finance, with the presence of the Chief Guest, Senior Professor (Chair) H. D. Karunaratne, the Vice-Chancellor of the University of Colombo.
The Ceremony was graced by the presence of the Guest of Honor, Mr. Zhang Yingbao, the Cultural Counselor of the Embassy of the Peoples' Republic of China. The event was also attended by Mr. Abeysekara, the President of the Association for China-Sri Lanka Social and Cultural Corporation, Professor Pradeep Dharmadasa, the Dean of the Faculty of Management and Finance, Professor B. Nishantha, the Unit Coordinator of the Post-Graduate and Mid-Career Development Unit, Dr. Nishani Ekanayake, the Coordinator of the EMBA Program, Mr. Boshan Dayarathne, the President of the MBA Alumni Association and the lecture panel.
The EMBA program of the Postgraduate and Mid-career Development Unit, Faculty of Management & Finance, University of Colombo is a premier MBA offered by a national university in Sri Lanka. It is a highly customized Master's Degree program designed to enhance senior-level managers' capabilities, skills, and qualifications. The newly launched program for Chinese nationals will provide a platform to enhance their understanding of the Sri Lankan economy and business aspects which would accelerate their already successful careers in the country. In the inauguration ceremony, the Guest of Honor, Mr. Yingbao highlighted that the program would bring value addition to the Chinese students in their careers and would help them to understand the Sri Lankan culture, people, and society. Further, he mentioned that the enrolled Chinese students in this specially designed EMBA program would form a new bridge between China and Sri Lanka and would be stimulation to initiate many such future programs with the University of Colombo. It is also noteworthy to mention that this EMBA program for Chinese nationals launched in the year 2022 when China and Sri Lanka celebrate the 65th anniversary of the diplomatic relationship between the two countries.