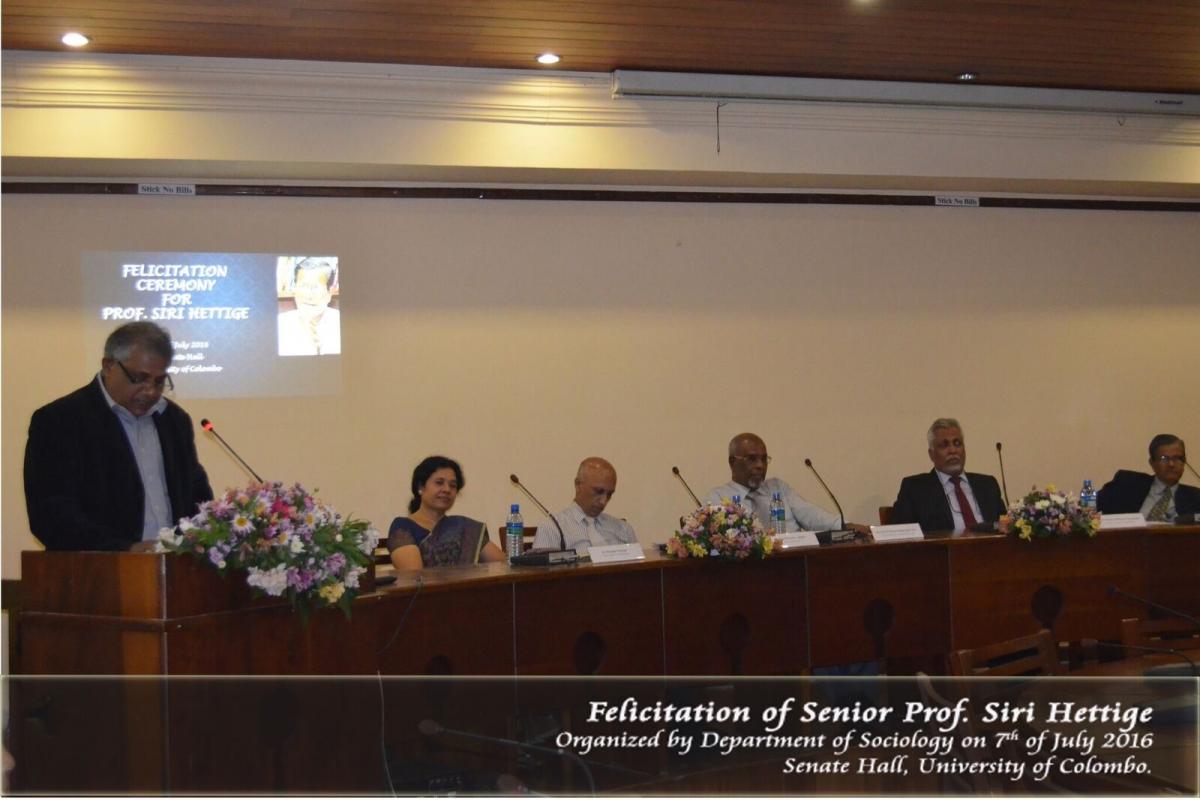 Felicitation Ceremony for Senior Professor S. T. Hettige
As a mark of gratitude to Prof. Siri Hettige in recognition of his long service to the University of Colombo, the Department of Sociology organized a felicitation ceremony on the 07th of July, 2016 at the Senate Hall of the University of Colombo from 3.00 p.m.  to  5.00 p.m.
Professor S.T. Hettige, Senior Professor in Sociology, secured his Ph.D. in Social Anthropology from Monash University, Australia in 1980. He was appointed to the Chair of Sociology in 1992 and functioned as the Head of the Department for nearly ten years, commencing from 1987. His other substantive positions at the university were Senior Student Counsellor (1989-92), Director, Social Policy Analysis and Research Centre (2005-2010) and Dean/Arts (1999-2002).  Other positions that he currently holds are: President, Association of Sri Lankan Sociologists, Chairman, Social Science Committee of the National Science Foundation, Sri Lanka, Convener, Campaign for Sound National Policies and the Chairman, National Police Commission.
His teaching career spans 43 years. His research areas varied widely dealing with such issues as poverty, migration, social protection, youth, social and ethnic conflict, development, education, health and disaster recovery. There are over twenty books, over hundred and fifty research papers and book chapters and numerous conference presentations and keynote addresses to his credit. His latest book (2015) is entitled Towards a Sane Society, and published by Sarasavi Publishers, Nugegoda. Professor Hettige has been a beneficiary of the Monash Graduate Scholarship, Commonwealth Travel Fellowship, British Academy Fellowship, Fulbright Senior Scholar Award, University of South Australia Distinguished Visiting Scholar, Indian Council of Cultural Relations Distinguished Visitor award, Principal Fellow, Presidential Research Award 2012 and numerous research grants from international and national agencies. He has also been appointed as a visiting scholar at number of local and foreign universities, such as, Ruhuna University, Moratuwa University, University of Adelaide in Australia, University of Constanz in Germany and University of Kuopio in Finland. Professor Hettige is currently Adjunct Professor in the School of Social Sciences, RMIT University, Australia.