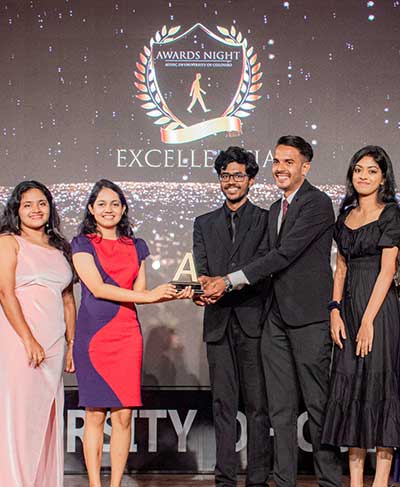 EXCELLENTIA Awards Ceremony
"EXCELLENTIA" 2023 Annual awards ceremony was held on the 29th of January at the New Arts Theatre, exclusively to celebrate the hard work and achievements of the members of AIESEC at the University of Colombo. Apart from being an award ceremony, it is an opportunity to recognize and encourage the aspiring leaders among the membership, and to inspire them to unveil the best version of themselves.
The event was attended by our Chief Guest Mr Sisitha Hewage (Regional Director at AIESEC International for the Asia Pacific Region) and Mr Kaneel Dias (Member Committee President of AIESEC in Sri Lanka). The night was filled with excitement and anticipation as the nominees eagerly awaited the announcement of the winners. The awards were distributed across various categories, recognizing excellence in areas such as innovation, leadership, and dedication.
One of the highlights of the night was the acceptance speech given by the recipient of the best young leader award. The award winner Mr Denura Hemsara shared his AIESEC journey and lessons learned throughout his time in the organization, inspiring the audience with his commitment and dedication. In addition to the awards presentation, the ceremony also featured musical performances by two of the talented members of our membership body adding to the festive atmosphere of the event.
View More Photos – FOS Media