"Challenges and Opportunities for Libraries in the New Normal"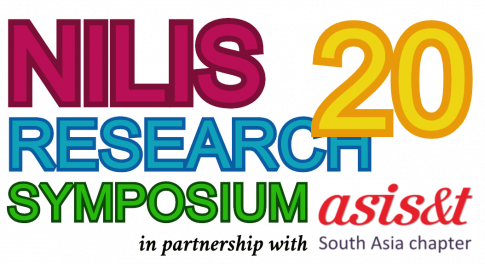 NILIS Research Symposium, the annual research event of NILIS will be held on 23rd January 2021 using online mode. This is organized in partnership with the South Asia Chapter of the Association for Information Science and Technology (ASIS&T).
The keynote address will be delivered by Professor Bhuva Narayan of the School of Communication, University of Technology Sydney, Australia.
Abstracts of completed or near-completed original research and unique experiences are called to reach us on or before 31st of December 2020. The main theme of the symposium is "Challenges and Opportunities for Libraries in the New Normal". Subthemes include, but not limited to…
Changing faces of the information society
The emergence of a new library culture
New roles and skills of Librarians
Information systems and new business models
Big data, Semantic technologies
Role of catalogs directories and indexes
Information resources and services
Information Technology tools and devices
LIS education and training
The Symposium will be 100% open and free for participants and presenters. Only a limited number of participants will be able to join via the Zoom app upon registration, while others can join via broadcast social media.
---
Read more
MORE DETAIL
Website
Email