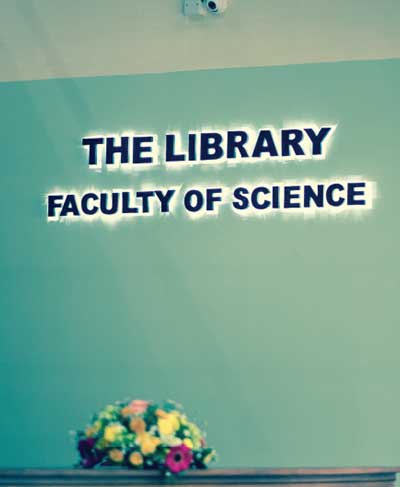 E-book donation to the Science Library by CUFSAA-NA
The Colombo University Faculty of Science Alumni Association of North America (CUFSAA-NA) has once more supported the academic progress of the students of the Faculty of Science – this time by facilitating subscription services for a set of e-books critically needed to the Science Library. The CUFSAA donation includes subscriptions worth 4376 USD, for a total of 29 e-books. This donation was officially commemorated in a virtual ceremony held on the 25th of October 2022 from 8.00 to 9.00 AM Sri Lanka time, via the zoom platform.
The Vice-Chancellor of the University of Colombo, Senior Professor (Chair) H.D. Karunaratne graced the occasion as the Chief Guest. Members of CUFSAA-NA in the USA, academic staff of the Faculty of Science, including the Heads of Departments and the Library Committee members, administrative staff members and student representatives of the Faculty joined the meeting. Following the welcome remarks by Dr Pradeepika Saputhanthri, the Chairperson of the faculty Library Committee, Mrs Sajeewanie Somaratna, Senior Assistant Librarian of the Faculty of Science presented an introduction to the Science Faculty Library, the Information and Learning Centre (ILC), and to the e-book donation project.
The Vice-Chancellor, Professor Karunaratne and the Dean of the Faculty of Science, Senior Professor Upul Sonnadara, addressed the gathering by sharing insightful thoughts and informative views. Dr Vicumpriya Perera, the President of CUFSAA-NA, presented the activities conducted by the CUFSAA-NA in supporting the Faculty of Science, and the Sri Lankan community in general, while Dr Reshan Fernando, Chair of the e-book donation project subcommittee briefed the audience on how the project was successfully completed in a period of time. Concluding the event, Mrs Somaratna expressed her sincere gratitude to CUFSAA-NA on behalf of the Faculty of Science by delivering a vote of thanks.