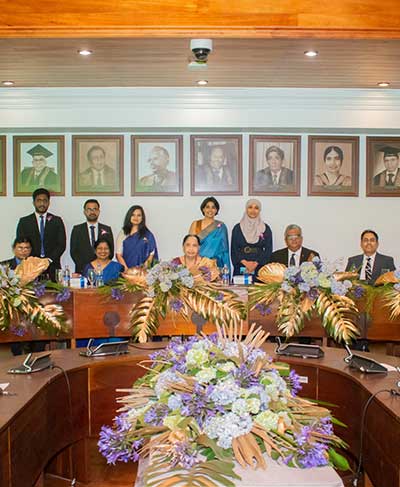 Inauguration of the Diamond Jubilee Celebrations of the Faculty of Law
The inauguration ceremony to launch the Diamond Jubilee celebrations of the Faculty of Law was held on the 16th of September 2022 at the Senate Hall. The ceremony was hosted by the Faculty of Law with Professor (Dr) Sampath Punchihewa, Dean, Faculty of Law, Professor (Chair) Wasantha Seneviratne, Head of the Department of Public and International Law, Dr Udapadie Liyanage, Head of the Department of Private and Comparative Law and Mr Menaka Harankaha, Head of the Department of Commercial Law in attendance. The Chief Guest for the occasion, Senior Professor Sampath Amaratunga, Chairman of the University Grants Commission and the Guest of Honour, Senior Professor (Chair) H.D. Karunaratne, Vice Chancellor of the University of Colombo addressed the gathering.
The highlight of the afternoon was the keynote address by Emeritus Professor Savitri Goonesekere, former Vice Chancellor of the University of Colombo. Professor Goonesekere delivered a memorable speech, where she recollected with nostalgia the glorious past of the Faculty. She discussed the transition from a Department of Law situated in the hills of Kandy to the Faculty of Law situated in Colombo, the inclusion of women in its academic staff and management, the fusion of academic research and legal advocacy, its environment of collegiality and constructive dialogue, and its vision for the future.
A video presentation was shown depicting the history of the Faculty and capturing its long-standing contribution to legal education, inclusive learning, research, scholarship and student development and welfare. The newly composed proposed anthem for the Faculty of Law was recited at the inauguration ceremony as well. The vote of thanks was delivered by the chairperson of the Diamond Jubilee celebrations Committee, Prof. (Dr) Kokila Konasinghe. The event was well attended by justices of the Supreme Court and Court of Appeal, former Deans of the Faculty of Law and Vice Chancellors of the University of Colombo, distinguished alumni and academic and non-academic staff of the Faculty of Law. Once the formalities were concluded, the distinguished invitees and guests enjoyed a time of refreshments and fellowship.
View More Photos
Media Courtesy: Fos Media