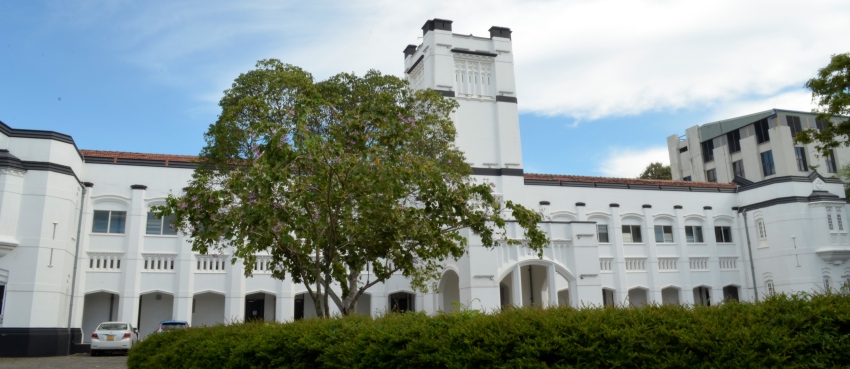 Degree of change – Colombo University symposium set to transform higher education, focus on research and knowledge creation
The stage is set for the oldest university in Sri Lanka to showcase its prowess in the arena of research, starting tomorrow (October 26). The five-day Annual Research Symposium of the University of Colombo will be held from October 26-30, with the inaugural ceremony scheduled for tomorrow amidst much pageantry at the College House.
While the chief guest is Indian High Commissioner, Y.K. Sinha, the keynote speaker is Prof. Tony Anghie from S.J. Quinney School of Law, University of Utah, United States of America. Explaining that knowledge-creation and dissemination of new knowledge have become key words in the present context of university education, Vice Chancellor Lakshman Dissanayake points out that the word "education" can have many meanings but it has become something which is taught or learned by referring to available knowledge.
"The role played by higher educational institutions vastly differs from the traditional mode of delivering education, since seats of higher learning are the places where new knowledge is created in various disciplines. This is research and development. There cannot be any new knowledge without empirical research derived through critical inquiry," he says.
In spite of many developments in research and development, the Vice Chancellor, however, stresses that in his view "we, Sri Lankans, have not reached the heights that we are capable of scaling, up to date". Therefore, universities should promote research and encourage more innovations that would leave a lasting impression on society. Symposia of this nature make way for teachers and students to transform their innovative ideas to scholarly work. It also helps the university to organise a gathering of similar-minded scholars to meet one another and present their work, indulge in discussions and get necessary feedback, adds Prof. Dissanayake.
Dubbing the Annual Research Symposium "the premier and flagship gathering of one of the finest and longest traditions of academic interactions in the country," Conference Chair Dr. Sampath S. Seneviratne points out how it spans across eight broad disciplines representing education, fine arts, humanities, law, management, medicine, sciences and graduate studies.
The symposium provides a platform to exchange ideas, discover novel opportunities and partnerships, reacquaint with colleagues across faculties and broaden knowledge, he said, adding that there is no overall theme. This was to allow for the representation of the diversity within the university's community of freethinkers. Each faculty has come up with its own theme, which enhances the colour and character of the symposium.
"The real challenge and responsibility upon us now is to bring this knowledge to where it matters – to the policymakers and the public," adds Dr. Seneviratne.
Read More: http://www.sundaytimes.lk/151025/sunday-times-2/degree-of-change-168993.html