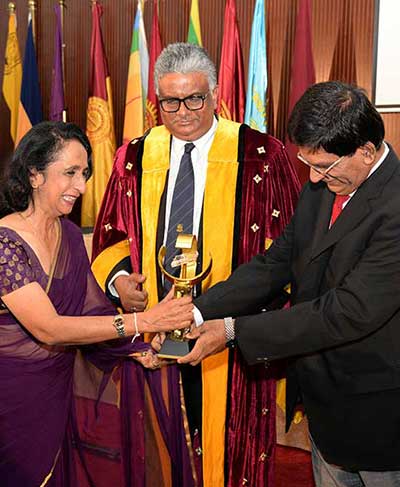 Three academic staff members were awarded at CVCD Excellence Awards 2020
The Committee of Vice-Chancellors and Directors (CVCD) Excellence Awards Ceremony 2020 was held on 2nd September 2022 in the Bandaranaike Memorial International Conference Hall (BMICH) under the distinguished patronage of the Chief Guest Prof. Ranjith Senarathne, Chairman of the National Science Foundation and Guests of Honour Mrs Deepa Liyanage, Additional Secretary to the Ministry of Education and Prof. Sampath Amaratunge, Chairman of the University Grants Commission.
Senior Professor N.D. Karunaweera, Department of Parasitology, Faculty of Medicine and Senior Professor L. Manawadu, Department of Geography, Faculty of Arts were awarded as the Most Outstanding Senior Researchers in the field of Health Science/Medicine/Dental Science/Veterinary Science/Allied Sciences and Humanities/Aesthetics/Social Sciences respectively. Dr W. V. A. Dinesha Samararatne, Department of Public and International Law, Faculty of Law was awarded as the Most Outstanding Young Researcher in the field of Management/Law.
Most Outstanding Senior Researcher
Senior Professor Nadira D.Karunaweera
Department of Parasitology, Faculty of Medicine
Most Outstanding Senior Researcher
Senior Professor L. Manawadu
Department of Geography, Faculty of Arts
Most Outstanding Young Researcher
Dr Dinesha Samararatne
Department of Public and International Law, Faculty of Law