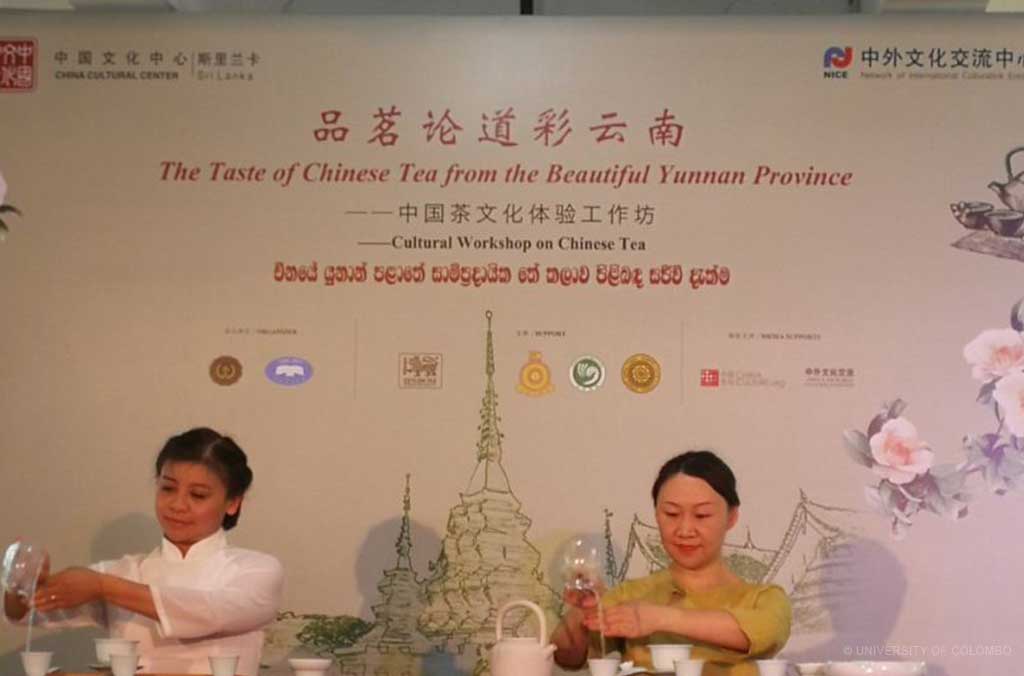 Cultural Workshop on Chinese Tea
The Confucius Institute at University of Colombo, co-organized a Cultural Workshop on Chinese Tea named as "The Taste of Chinese Tea from the Beautiful Yunnan Province" on 5th September 2019 in the Green Table area, Faculty of Arts.
Venerable Professor Medawachchiye Dhammajothi Thero, the Local Director of CIUC, gave a welcome address to all invitees. Vice-Chancellor Senior Professor Chandrika N Wijeyaratne, Senior Professor Premakumara de Silva, Dean, Faculty of Arts, Director of Chinese Culture Center, Mr. Yue Liwen made a speech in the opening ceremony. Professor Vivian Huang, Chinese Director of CIUC, Mr. Anura Siriwardena, Director General of Tea Board, Dr. Sashika Manoratne, Director of International Office, Mr. Saman Uyangoda, Deputy Registrar, and many faculty members and students participated this event.
The workshop demonstrated the situations of Chinese tea and Yunnan tea culture, as well as the unique techniques of making and storing Pu'er tea native to Yunnan and its health effects through activities such as tea culture lectures, tea ceremony performances, communication with tea masters, and interactive experiencing. The event will also showcase the evolution and inheritance of Chinese tea culture and the philosophical concept of "harmony between man and nature," the beauty of the ambience, tea leaves and art of tea ceremonies, and the techniques of preparing and drinking tea, as well as knowledge about the identification of tea leaves and the selection of tea utensils and water used to soak tea leaves. In this way, it let the public feel the charm of Chinese tea culture and understand the spirit of Chinese tea ceremony—"tranquility, respect, leisure and sincerity" in the process of soaking and tasting tea.