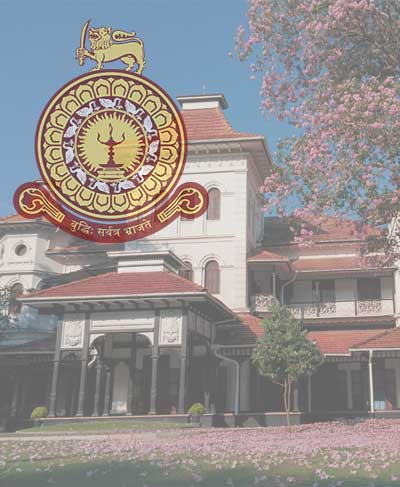 Colombo UN75 Dialogue
As part of the 75th anniversary commemoration the UN is holding a worldwide dialogue in as many communities and countries as possible, across borders, sectors, and generations, to assess current and future risks and opportunities, and source solutions for global cooperation. The online Colombo UN75 Dialogue was held on June 18, 2020, via zoom. The Dialogue presented a multidisciplinary and multi-generational outlook of the role of the UN and Sustainable Development Goals from the perspective of Sri Lanka.
Participants of the dialogue:
Vice-Chancellor of the University of Colombo Senior Professor Chandrika N. Wijeyaratne
Senior Professor Nayani Melagoda, Professor in International Relations and the Dean of Faculty of Graduate Studies
Professor Nirmalie Pallewatta, Professor in Zoology and Environmental Sciences
Professor Erandathie Lokupitiya, Department of Zoology and Environment Sciences
Professor Naazima Kamardeen, Department of Commercial Law
Dr. Janaki Jayawardena, Department of History
Dr. Sashika Manoratne, Department of Management and Organization Studies
Moderator: Dr. Maneesha Wanasinghe Pasqual, Department of International Relations
Please follow the below link on Colombo UN75 Dialogue
A summary of key points about Colombo UN75 Dialogue:
The importance of preserving true peace and cooperation within the UN system and beyond to facilitate the world to 'work as one'
Mutual respect and cohesion in solving global issues including poverty, gender inequality, climate change and loss of biodiversity
The need to take on a more holistic, integrated, multidimensional and multilateral approach to solving problems with an emphasis on humanity
Being appreciative of nature and environment, ecosystems and the need to preserve the same
Need for a sustainable economy with equitable cooperation interventions and governance
Respecting values and recognizing the role of women in global leadership
A series of online events preceded the dialogue.
A survey on "The UN and Our Envisioned Environment".
Digital Poster exhibition on the "The Digital Environment for Climate Change Activism in Sri Lanka"
10-minute video created by University students on "100 Voices for UN 100"
Please follow the below link on student voices titled "UN75 Envisioned"