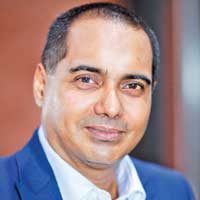 Mr Arjuna Nanayakkara
KEYNOTE SPEAKER
Director – SLASSCOM, CEO – GTN Technologies & Head of Shared Services, GTN Group
Arjuna Nanayakkara is the CEO of GTN Technologies Sri Lanka & the Global Head of Shared Services of the GTN Group. He is a pioneer in building exceptional leadership teams and transforming organizations over past two decades by formulating corporate and business strategies based on operational excellence, product engineering, business development and corporate restructuring.
He is a management accountant by profession, marketeer and qualified in computer science, design and engineering and has held strategic leadership and operational roles in the Financial Services, Information Technology, Retail, Leisure & Hospitality and Property Development industries over the years.
In addition to his corporate responsibilities, Arjuna is a director of SLASSCOM and Trace Expert city, a board member of the Council for Business with Britain and an industry advisory board member of the SLTC Research University.