As the valued identity of the University of Colombo, our university holds the exclusive copyright for its logo. Our logo must never be abused nor altered. It is essential that its proper use requires that you follow the guidelines detailed below and provided by the university administration. All currently registered and enrolled staff members and students are permitted to use the logo in their academic and administrative material. This is also possible for the aforesaid individuals who liaise with approved external bodies/agencies where official permission has been granted by the Registrar University of Colombo.
HOW TO DOWNLOAD THE LOGO
The logo is available to download in PNG format and its also available in Color and Black & White formats. You may click on the required file format in the given link below to download.

WEBSITE COLOR LOGO
HOW TO USE THE LOGO
In order to maintain the university's visual presence, you are requested to follow the guidelines when you re-upload or print the logo in another media.
The logo requires maintaining one of the color types in Hexadecimal, RGB or CMYK as shown in the colour table. The background must be clear and if you wish to

construct

symbolic logos, you must get permission from the university registrar.
Do not use a part of the logo or obscure by using any other design element. You need to maintain the logo's minimum exclusion zone which is equal to 10% of the logo's width & height respectively from the boundary. Nothing should fall within this area.
The minimum width should be 35mm and you must not alter the logo width: height ratio which is 1: 1.46.
You should use the latest updated logo on the university official website and not use any previous version(s) of the logo that is now outdated.
COLOR TABLE
| | | | |
| --- | --- | --- | --- |
| COLOR | HEXADECIMAL | RGB | CMYK |
| Maroon | #800000 | 128, 0, 0 | 29%, 100%, 100%, 38% |
| Gold | #F4D569 | 244, 213, 105 | 95%, 13%, 71%, 0% |
| Black & Maroon | #6B0000 | 107, 0, 0 | 33%, 100%, 100%, 50% |
| White | #FFFFFF | 255, 255, 255 | 0%, 0%, 0%, 0% |
| Black | #000000 | 0, 0, 0 | 100%, 100%, 100%, 100% |
LOGO EXCLUSION ZONE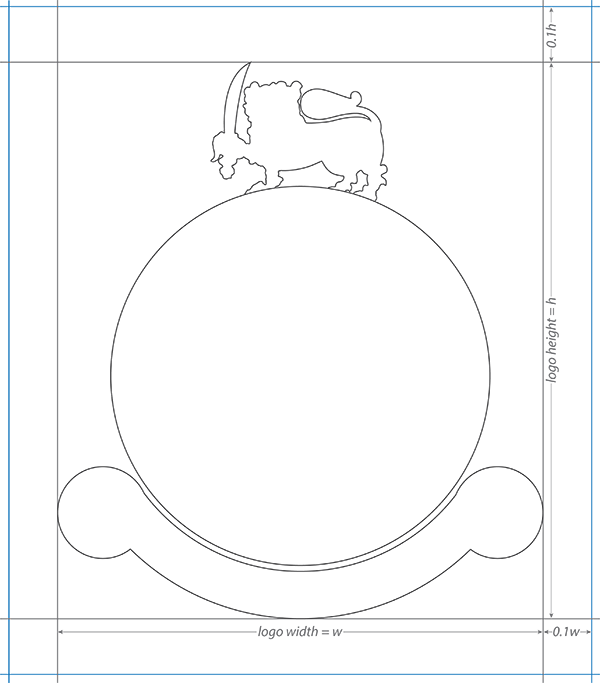 DEFINITION OF THE LOGO
නිර්මානය
හිටපු පුරාවිද්‍යා සහකාර කොමසාරිස් (වාස්තුවිද්‍යා) ධුරන්ධර ශ්‍රී ලංකා රාජ්‍ය ලාංඡනයේ නිර්මාතෘ කලාපති, කලාභුෂණ, පුරාවිද්‍යා චක්‍රවර්තී ඇස්.එම්.සෙනවිරත්න.
නිර්මාණ කළ වර්ෂය
1972
සංඛේත අර්ථ
සංස්කෘත පාඨය- "බුද්ධි සර්වත්‍ර බ්‍රාජතේ"
සිංහල අර්ථය- "බුද්ධිමතා සැමැතැන බැබලේ"
පාදම
සංස්කෘත පාඨය යොදා ඇත්තේ පාදම තුලය. එය "මිහිකත" යන අර්ථ ගන්වයි. ජල රැල්ලක ආකාරයෙන් කෙළවර ඇඳ තිබේ. මිහිකත ජලයෙන් මෙන්ම තුරු, ලතා, මල්වලින් අනූනය. ඒ බව අග ඇති "ලිය වැල සහ මල්" මෝස්තරයෙන් පෙන්වා දෙයි.
පලාපෙති චක්‍රය
නෙළුම් පෙති "පලාපෙති" ලෙස සිංහල මෝස්තර රටාව මෙසේ යොදා ඇත්තේ බුද්ධියේ පවිත්‍රාත්වය, නිදහස හා උත්තරිතර බව කියා පෑමට ය. (නෙළුම් මල උත්තරීතර බුදුන්වහන්සේට යොදන සංකේතයකි.) මෙහි මනුෂ්‍යයෙකුගේ මනසේ පිවිතුරු බව, නිදහස් සිතුවිලි ආදිය නිරූපනය කෙරේ.
හංස පෙළ
බුද්ධිමත් බව සමඟ මනුෂ්‍යා ලබන විනය,ශික්ෂණය හා ආධ්‍යාත්මික බව මින් පිලිබිඹු කරන අතර මෙය වඩාත් තීව්‍ර වන්නේ හංසයන් නෙළුම් පොහොට්ටුවක් හොටින් රැගෙන යන ආකාරයෙනි.
මධ්‍යය

පුස්කොල පොත – විද්‍යාත්මක ක්‍රමවේද සකසන ආයතනයක, ඓතිහසික වූ ද ශාස්ත්‍රීය හා විද්‍යාත්මක ගවේෂණය මින් නිරූපනය වේ.
පහන – "ඥානය හා බුද්ධිය" ආලෝකයකි. එය විහිදෙන්නේ ප්‍රඥාවේ පහන දැල්වීම මත ය.මේ පහනෙන් ප්‍රඥාවේ ආලෝකය මුළු ලෝකයක් වෙත පැතිරි යන ආකරය පෙන්වයි.
පහනට "දැල්ල තුනක්" නිර්මාණය කර තිබේ,මෙහිදී විවිධ දෘෂ්ටීන්වල අන්තගාමි ප්‍රවේශයට වඩා මැද සිට විග්‍රාහ කිරීම වඩාත් යෝග්‍ය බව පෙන්වා දේ.

කඩුව අතින් ගත් සිංහයා
ජාතික අභිමානය මින් කියැවෙන අතර ශ්‍රී ලාංකික දේශයේ ප්‍රෞඩත්වය මින් විදහා දැක්වේ.
රතු වර්ණය
ජවය,වීරත්වය හා තම ඥානය කෙරෙහි ඇති විශ්වාවසවන්ත බව මින් ප්‍රකශිතය. විශේෂයෙන් ඕනෑම මතවදයක් මුල් මතයට විප්ලවීය ලෙස ඉදිරිපත් කල යුතු බව ඇඟ වේ.
තද මෙරුන් වර්ණය
කළු වර්ණය හා විප්ලවීය රත් වර්ණය මිශ්‍ර වීමෙන් මෙම තද මෙරුන් වර්ණය නිර්මාණය වේ.මතවාදයේ නැවුම් බව හා ස්වාධීන බව ඇඟ වේ.
ලාංඡ්නයේ නිර්මාපක ඇස්.එම්.සෙනවිරත්න මහතාගේ පුත් ඉන්ද්‍රජිත් සෙනවිරත්න මහතා ලබා දුන් විස්තර මත මහාචාර්ය සඳගෝමි කෝපරහේවා මහතා විසින් සකස් කරන ලදි.
UPDATED: 12:31 PM 1/24/2021