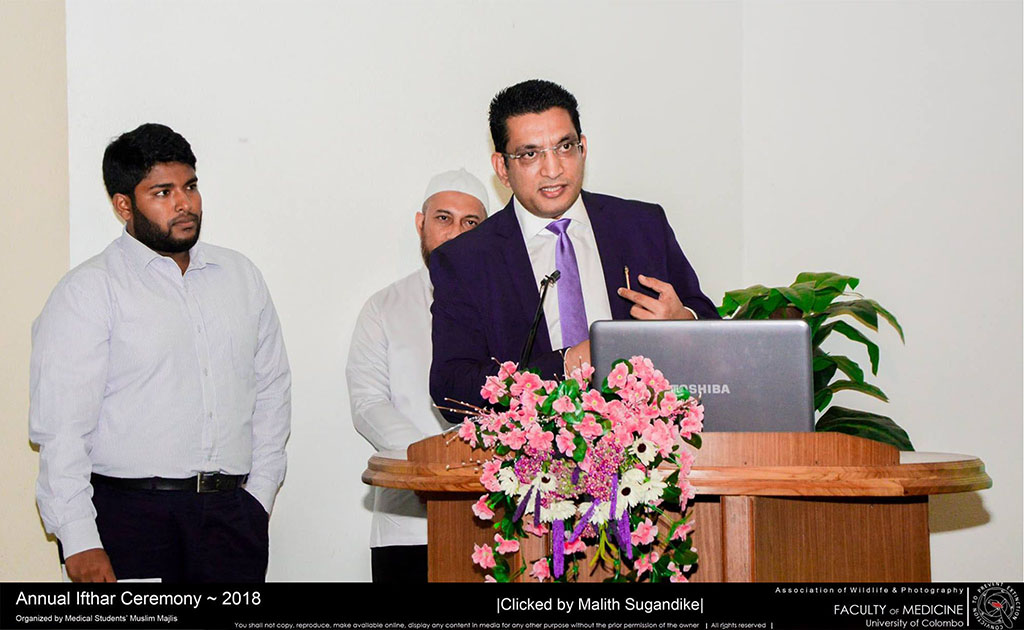 The Annual "Ramadan Iftar" Ceremony
The Faculty of Arts organized the Ramadan Iftar Programme on 12th June 2018, to enhance the positive attitudes among students and the staff about living and functioning in a multi-ethnic and multi-cultural society.  This programme was held in the Faculty of Arts premises under the patronage of the Dean-Faculty of Arts, Professor Premakumara de Silva.
Meanwhile, the Annual Ifthar Ceremony organized by the Medical Students' Muslim Majlis of the Faculty of Medicine, University of Colombo was held on Saturday, the 26
th
of May 2018 at the New Building Lecture Hall from
4.30 pm
onwards, under the guidance of the Senior Treasurer Dr. Ruweiz Haniffa. A distinguished gathering of professors, lecturers, doctors and medical professionals attended the event accompanied by the undergraduates of the Faculty of Medicine, University of Colombo, their families and undergraduates of other faculties and universities.
The Chief Guest of the event was Mr. M.U.M. Ali Sabry, President's Counsel who is the current Vice President of the Bar Association of Sri Lanka. The Guest Speaker was Ash Sheikh Abdullah Mohideen. Eminent professionals including Vidyajyothi Professor Rezvi Sheriff, Deshamanya Professor A.H. Sheriffdeen and Professor M. Fazly Nizar graced the event. The event saw a series of programs designed to incorporate ideas and clarifications of Islam in the current context with the participation of the other three religious societies of the Faculty.