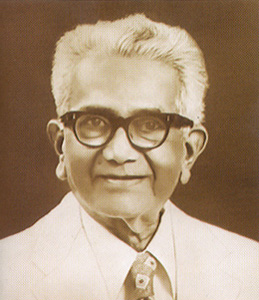 Mr Walwin Arnold De Silva
Vice Chancellor (1968 – 1969)
Mr Walwin Arnold De Silva was born at Balapitiya on 12 August, 1905 to Dr  O.A. De Silva. His father Dr O.A. De Silva was a Registered Medical Practitioner attached to the Department of Health. Walwin and his brother Colvin (the late Dr Colvin R. De Silva) had their primary education at St. John's College, Panadura and they moved to Royal College, Colombo for their secondary schooling. Walwin entered the Ceylon University College and read mathematics under the eminent late Professor C. Sundaralingam and subsequently, entered the University of London where he obtained an Honours degree in Mathematics. Mr De Silva sat for the Ceylon Civil Service Examination in England in competition with British and Ceylonese aspirants for a service highly coveted in the British colonies. He was successful at this highly competitive examination.
As a Ceylon Civil Service cadet and a young officer, Mr Walwin De Silva began his working life in 1927 as an Assistant Government Agent and Assistant Commissioner in Galle, Kegalle, Badulla, Putlam and other Kachcheries as well as the Food Department in Colombo where he was Deputy Food Controller when rice rationing was introduced during the war years. At the Food Department, during the years of the Second World War, he helped to save the nation from starvation when the imports of food were badly affected. He also had a stint as Secretary to the then Minister of Communications the late Sir John Kotalawala in the State Council. As Additional Director and later Acting Director of Education he held very advanced views on education. He was greatly interested in introducing the study of Science throughout a child's school career commencing at the Kindergarten level itself. Mr De Silva earned a reputation as a strong administrator.
The important services rendered by Mr De Silva in these various positions were numerous and significant. After his retirement from public service, Mr De Silva took to politics for a brief period. He was elected to the first parliament of independent Ceylon at a by-election to represent the Ambalangoda – Balapitiya constituency. As an independent member of the opposition, he made a noteworthy contribution to the debates and discussions in parliament. On the invitation of the late Mr Saravanamuttu, also a member of the CCS, Mr De Silva joined Ceylon and Foreign Trades Ltd. as an Executive Director. He became Chairman of that company on Mr Saravanamuttu's death and held that position for many years. Mr De Silva was appointed to the Board of Directors of the People's Bank. He thereafter served briefly as Chairman of the Development Finance Corporation of Ceylon (DFCC).
He was appointed a member of the National Council for Higher Education established under the Higher Education Act No.20 of 1966. In 1968 he was appointed Vice-Chancellor of the University of Ceylon, Colombo, a post which he held for one and a half years until his health began to fail him. Mr De Silva was reputed for his enlightened and independent views. As Vice-Chancellor he did his utmost to develop the University of Colombo as an important centre of learning. When advised during disturbances to close the University he observed that his endeavour was to keep the University open and not closed. He carried out with great enthusiasm and dedication whatever task was assigned to him and he genuinely enjoyed doing so. He aspired to no success or reward external to the task itself. Even after he resigned from his post as Vice Chancellor Mr De Silva has continued to remain a friend and well-wisher of this University, fostering development in every way possible. Along with Ms De Silva, he has endowed two scholarships: the Gita De Silva Memorial scholarship in memory of their daughter and the Sunil De Silva Memorial scholarship in memory of their son. In view of his long and selfless service to the nation as a public servant and Parliamentarian and in recognition of the service rendered by him to the development and welfare of this University, the University of Colombo, Sri Lanka conferred on him the Degree of Doctor of Letters (Honoris Causa) at the Convocation held in Colombo on 27 July 1985.