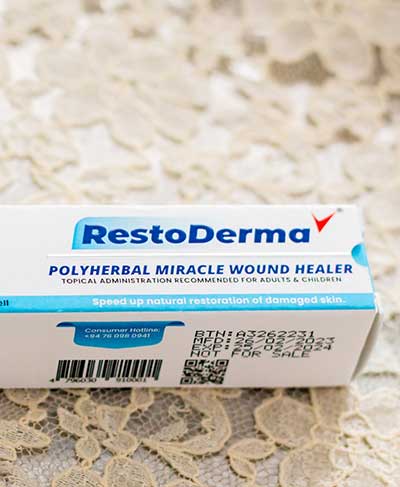 Launch of 'Restoderma', a Poly-herbal Miracle Wound Healer Cream
A research team from the Faculty of Science led by Professor Preethi Udagama has developed an efficient and effective, easy-to-use stimulant for skin regeneration therapy (specially for wound healing), comprising a non-toxic (at working concentrations), poly-herbal distillate which provides faster results than the currently available alternatives. The Inventor team headed by Professor Udagama consisted of the Late Dr Udaya Samarathunga (Gampaha Wickramarachchi University of Indigenous Medicine), Professor Jayamini Seneviratne (Consultant Dermatologist at the Lady Ridgeway Hospital for Children), and Mr Praneeth Ratnayake (PhD Candidate of the Univesity of Colombo).
This was the first product of the Department of Zoology and Environment Sciences and this product can support wound healing and increases the rate of the healing process. Its success in wound closure leading to complete healing has been proven under laboratory conditions. Based on the results obtained, the product acts fast and gives quick results, compared to natural healing and in half the time of other products available in the market. As the next step of the commercialization process of bringing technologies developed at a university laboratory to the market, Herbal Care Industries (Pvt) Ltd in collaboration with Colombo Science and Technology Cell, Faculty of Science is pleased to launch "Restoderma", a Poly-herbal Miracle Wound Healer Cream, which can be used with confidence. Senior Professor (Chair) H.D. Karunaratne, Vice Chancellor of the University, Mr Suraj Perera, Chairman of Herbal Care Industries/ Aayura Naturals, and other dignitaries from the University of Colombo and Herbal Care Industries graced the product Launching ceremony on 27 February 2023.
View More Photos – FOS Media