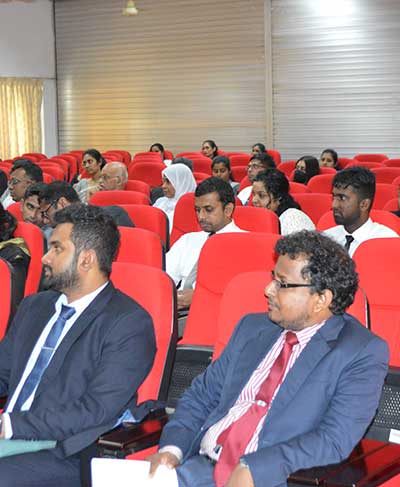 Faculty of Law celebrated its 75th anniversary of excellence in legal education
The Faculty of Law in its Diamond Jubilee anniversary year held a grand inauguration ceremony of the new intake of M.Phil. and PhD degree programmes on 9th March 2023 at the College House Auditorium with the participation of nearly 50 postgraduate students and many respectable dignitaries. As the Faculty takes research degree intake every year at the moment the Post Graduate Unit is coordinating 6 batches in a total of M.Phil and PhD programmes in law. Being the premiere academic institution in legal studies in Sri Lanka, this year marked the historical commencement of opening up for foreign intake. Therefore, the inauguration ceremony was attended by both foreign and local PhD students. Among the local student intake Faculty is proud to welcome research students who are judges of the Supreme Court and Court of Appeal of Sri Lanka and many other legal luminaries who hold the highest position in the field of legal practice and operating within the country.
The event was graced by the presence of His Lordship Justice of the Supreme Court Yasantha Kodagoda PC, the Vice Chancellor of the University, Senior Professor (Chair) HD Karunaratne, the Rector of the Sri Palee Campus Dr Prathiba Mahanamahewa, Dean of the Faculty of Law Professor NS Punchihewa and the Coordinator of M.Phil. and PhD. Programmes, Professor Kokila Konasinghe.