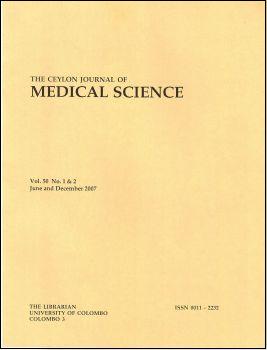 The Ceylon Journal of Medical Science – 2009
The Ceylon Journal of Medical Science is a refereed journal. It was formerly Section D of the Ceylon Journal of Science, which was founded in 1924 by the Government of Ceylon to provide facilities for the publication of papers dealing with scientific research carried out in Ceylon by government officers and others. In 1942, the administration of the Journal was handed over to the University of Ceylon. Section D was named the Ceylon Journal of Medical Science in November 1965.
The Journal is issued from the University of Colombo, Sri Lanka. The journal publishes leading articles, reviews, original research, and case reports in medicine and medical sciences. Leading articles are usually requested by the editors, however, unsolicited submissions may be considered after discussion with the editors.
The journal was recently launched online through Sri Lanka Journals Online, and INASP project and submission of manuscripts online is now possible.
Visit the website of the Journal